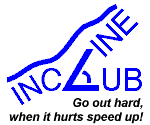 2009 Incline Club V13 - Start of new Season
---
Incline Club V13 - Start of the New Season
Sent: Sunday, November 16, 2008 9:30 PM
Subject: Incline Club News V13 - Start of the New Season!!

Hello, ICers --
It's *that* time of year again -- The leaves are off the trees, there is snow on the peak, the air is crisp and the sun sleeps in till after 7.... that can only mean one thing: Its time to start the 13th season of the Incline Club!
Hopefully your "off" season made for a good recovery period. By now you should be well rested, but now it is time to remember that Sunday mornings are the best time to go for a run!
***
Welcome to 'Newbies' If you are new to the Incline Club, you may think that we are a bunch of elite running nuts. Nothing could be further from the truth. The Incline Club is a trail running club that welcomes motivated runners of all abilities (walkers and hikers, too). There is a very good chance that you will find someone at or near your pace at our weekly runs. So don't be shy, come on out for as many runs as you are able. By simply signing up, you are a virtual member. In order to become a "real" member of the Incline Club you must show up and complete four workouts. It's that easy. In doing so you will gain access to many of the benefits of club membership, such as discounts of up to 20% at local stores and live entertainment (http://www.youtube.com/watch?v=jYu4x2v4DBY)!
Don't forget to check out the club FAQ: http://www.inclineclub.com/faq.htm
***
Reminder to 'Oldbies'
Welcome back to another season! Please take a minute to update your "About Me" pages. Some things that change from year to year are PRs, goals, e-mail addresses, family status, and running stories. You can also update your photos by replying to the sender of this newsletter. (Please be patient since photos are manually updated, it sometimes takes a while! We'll get to them as soon as possible. )
***
The Newsletter
Will come out on Wednesday(ish) of every week, and will let you know what is coming up for club runs, all the latest in club news, race reports, calendars and more. If for some reason you are unable to receive newsletters, you can always check the club website www.inclineclub.com for upcoming runs, archived newsletters, message board, and more. To submit a newsletter item, go here: http://www.inclineclub.com/newsletter.htm
***
So When IS the First Run of the Season?
First run of the Season will be Sunday, Nov. 30th, 8:00am - starting from Manitou's Memorial Park. Details will come in the Wednesday newsletter!
Train hard and smart!
~John
***********************************************
NEWSLETTER SUBMISSIONS:
***********************************************
Additions to Incline Club News from IC members are welcome and encouraged. Submit a Newsletter Item at:
http://www.inclineclub.com/newsletter.htm
***********************************************
WEBSITES:
***********************************************
Incline Club
http://www.inclineclub.com
Barr Trail Mountain Race
http://www.runpikespeak.com
Presented by Pikes Peak National Bank
Pikes Peak Ascent and Marathon
http://www.pikespeakmarathon.org
Training for the Ascent and Marathon on Pikes Peak
http://www.skyrunner.com/guide
***********************************************
ACCOUNT SETTINGS:
***********************************************
To change your e-mail address or unsubscribe from the Incline Club newsletter go here:
http://www.inclineclub.com/membership.asp
---