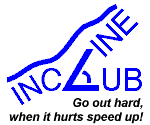 2009 Incline Club V13 — Race Reports and the start of the off season
---
Incline Club V13 — Race Reports and the start of the off season
Sent: Tuesday, September 01, 2009 9:36 PM
Subject: Incline Club News V13 — Race Reports and the start of the off season
Good Evening Incline Club!
It's that time of the year: September is upon us, the days are getting shorter, I no longer wake up on Sunday mornings and look for a powerbar... but the best thing is that I can now sleep in past 5am during the weekdays....
That can only mean one thing: The club is now in "off season" mode.
I'd like to thank all of you who helped make this past season such a success. Your dedication and drive are what makes this club so special. It was great to see so many of you out there and I look forward to seeing all of you again in November.
Club runs start back up on the last Sunday in November which will be on the 29th this year. Until then, hope to see ya all on the trails.
--john
***********************************************
Race Reports
***********************************************
In order to keep you occupied until the club starts up again in November, we have 18 race reports for you. This should keep you busy till the club starts up again.
***********************************************
Pikes Peak Ascent — Pikes Peak — 08/15/2009
Janet Edwards reports:
Distance: 13.32
Goal: 4:00ish
Results: 4:33:38
General Summary:
The weather couldn't have been more beautiful especially after last year's conditions. My goal was to finishing somewhere around 4:00ish but didn't quite meet or exceed the goal.
Things Done Right:
Modified my menu over the summer which resulted in significant weight and body fat loss. Training became much easier to include completing the most IC runs to so far. Bottomless Pit to A-Frame was surprisingly fun this year as compared to hell in previous years.
Things Done Wrong:
The hotel we stayed at was supposed to have lots of carbs for breakfast but didn't. Soooo, I ended up eating cereal and honey dew melon which was not enough fuel so I struggled to maintain a decent pace.
Any Other Stuff:
Can't say enough good stuff about the volunteers and the behind the scenes crew of the race. It's clear everyone cares a great deal about the runners and the race which translates to lots of excitement and encouragement on race day. I was honored to volunteer for the Marathon on Sunday and what a rush it was to see so many ICers come across the finish line. Way to go!
***********************************************
Pikes Peak Marathon — Pikes Peak — 08/16/2009
Nathan Bergmann reports:
Distance: 26.21
Goal: 07:00:00
Results: 06:35:34
General Summary:
Weather was great. Volunteers were great. Fans were great.
Things Done Right:
Training with the IC'ers. Fretting about the weather (when I fret, it doesn't seem to be an issue). I took a really light cycling coat with pockets, a light beanie, and long fingered cycling gloves (in the coat pockets). I wrapped it around my waist above my water bottle fanny pack. I put it on when I thought I was getting cold (not when I felt cold) somewhere early in the last mile of the ascent. Put the hat and gloves on toward the top. Ran with all that stuff on back to A-frame. Kept the gloves on through the finish (helped tremendously with the falls...see below).
Things Done Wrong:
Fell twice on the downhill (once between mile 2 and 3 and once close to the top of the W's). Badly sprained ankles. Should've taken more than two gels with me. The Gatorade wasn't anywhere near full strength as I was expecting and I felt I was getting calorie deprived at about mile 11. 2 or 3 more gels might have helped a little. The grapes were kind of difficult for me to get down, although tasty. The Olive Garden the night before. Really, how can you screw up spaghetti, salad, and bread sticks that badly?!?
Comments on Calculator:
I expected a 4 hour ascent. I beat the time to Barr Camp by 11 minutes (much to my surprise...maybe went out too fast and passed too many people as I had never gotten there that fast in training). And I lost 10:57 on the rest, most of it on the last two miles (despite the 3:2:1's I did the last few weeks before my taper). My ascent time was 3:59:57.
***********************************************
Pikes Peak Ascent — Pikes Peak — 08/15/2009
Eric Hallam reports:
Distance: 13.32
Goal: 03:00:00
Results: 03:20:39
Website: http://www.pikespeakmarathon.org
General Summary:
My first PPA. Great race, the volunteers and support was fantastic. I also really liked being able to hear the PA system at the finish line from about the A-Frame.
Things Done Right:
Had a plan, more or less stuck to it. Passed many more people than passed me after the A-Frame, but was passed by many people in the W's. Was able to keep going despite having some cramping in the last 3 miles.
Things Done Wrong:
My training did not match the forced pack race pace for the "W's." The pace was too fast and too slow for me in the switch-backs. I run with really long strides, but was not able to stride out in the group I got in, I was forced to run with strides about 6 inches shorter than my preference which was extremely taxing on legs (slower — short strides, faster — could not keep up and had to walk). The next time I do this race I will train differently for the W's, oh well live and learn.
Comments on Calculator:
Worked great. On my training run to the top it was within a minute or two the entire way. Unfortunately, my race time was 18 minutes slower than my long training run.
Any Other Stuff:
Thanks to the race coordination team and volunteers. Wonderful Job!
***********************************************
PPA/PPM Volunteer Triple- Pikes Peak — 8/14-16/09
Larry Miller reports:
Distance: a long ways
Goal: live
Results: did it
General Summary:
As most of you know I volunteer to help on top of the peak for both races. I did it again this year, however the two days turned into three days.
What happened was that on Friday the OPS personal who were taking the A-fame team up to the top so they could camp at A-Fame for the weekend needed a driver to bring down the Pickup. I went along and helped unload the supplies and other things they dropped off. Boy, were you runners lucky! The weather on top was 28 degrees, winds 25-40 mph, snowing and cloudy. It was so cloudy that on the way down I had the pickup in 4 wheel drive low could not see a thing. Made it to Glen Cove with the brakes at a cool 35 deg. I never had to touch the brakes and flying snow keeps the brakes cool. That was day one.
Day two had me up at 3:30. First I make sure I had all the timing equipment and then drove over to the start so I could pickup a van and then the volunteers, including Michael (as in IC'er Mike Sandlin). What a day makes on top. Yes, there was wind and it was cool, but it was nice. At about 2:41 into the race here came Eddy Baxter, 55 years old. Outstanding job setting the age group record. It was great seeing all the Incliners coming up. Good job all of you.
Got down off the Mountain about 2:45pm. I lost two Volunteers to headaches and cold. I had warmed them when we were up there but they didn't listen.
I went back to Manitou and had a couple of beers with the group (ok, Mike) and then went in to the Awards at 5 PM. Now this is what's really great about the the IC'ers: they show up for the awards. That was outstanding. Well done Inclines.
My day ended falling asleep on the couch.
Just to wake up at 3:45 AM to start day three on the mountain, Marathon day. I was thinking about what damage I could cause today. Oh I get to drive up, in a 16 passenger van, and then back down as well.
Be it the finish line or the turn around, I had gotten to volunteer for most of them. One new face among the old PPRR finish line personal, newbie Tracy Anderson showed up. Man did we have fun.
There was something different about the top this day, didn't know what it was, but nobody complained of headaches or other high altitude problems. The weather was great. We did have a runner come up so fast that it heated things up: Matt, aka Mr. Speedy. The weather up on top makes the difference for these races. Nothing really happening on top this year and I only stuck my foot in mouth once. We loaded up the Van and got so much stuff in it that had to find rides for two of the volunteers in another van. I knew this was going to be a fun ride down. Made it to brake check and the temp was 60. I could not believe that with an overloaded van with 11 people it and only 60 on the brakes. Try that.
Got down in time for the awards. Once again Incliner's Rule.
They almost ran out of beer, but there was food and the beer ran again.
My day ended after helping cleaning up the Marathon finish line and a run back to my truck.
Things Done Right:
Had a beer afterwords
Things Done Wrong:
Nothing, it was all good!
***********************************************
Pikes Peak Ascent — Pikes Peak — 08/15/2009
Andrea Cichosz reports:
Distance: 13
Goal: 4:30
Results: 4:21
General Summary:
This year I was trying to find a good balance between training like a mad person to do well in the Ascent and traveling, my kids swim meets and actually having a life. Looking at the way my race went, I seemed to have done that.
Things Done Right:
Trained a lot, with and without the IC Club. Did a lot of speed work. By now I know the trail really well and know where I am at any given time. On race day, I ate well the days before, drank enough water throughout. My biggest change was probably that I got a lot more aggressive passing people, at least in the bottom part. Ran my fastest time by far to A-Frame.
Things Done Wrong:
Have to manage in a few more distance runs in the second half of the summer and more altitude. During the race, waited too long with the second gel before A-Frame. The last 2 miles were very congested and I got complacent behind people who were slightly slower than me. I wish I would have pushed it more here; I would have been under 4:15 and made the first wave for next year. I lost a bunch of time in the 16 Golden Steps, because the group moves at the pace of the slowest person in the front. Again, should have passed earlier.
Any Other Stuff:
It was my best race ever. I had been at sea level for 4 weeks in June and still managed a PR. The fact that I was talking about "Next Year" minutes after finishing shows how well I did. Yeahhhhh!
***********************************************
PPA/PPM Double! — Pikes Peak — 08/15-16/2009
Dan Burstein reports:
Distance: 13.32/26.2
Goal: Beat Last Years PPM Time of 8:19
Results: PPA 4:54 PPM 7:40
Website: http://PPA/PPM
General Summary:
What can you say besides...Everything from the Town to the Racers, Organizers, Volunteers and even the Weather were Fabulous!! Thanks to Ron for putting together another great race!! I am hooked....sign me up for the double again next year...but thank goodness there is not a "triple" category :-)
Things Done Right:
Took it slow and steady both days on the way to the summit (like I really had a choice, ha ha). Did not fall and kill myself as I barreled downhill on Sunday. Stayed well hydrated and ate jelly beans the whole way.
Met Keith...the 80 yr old "superman" that also doubled.(Keith beat me to the top both days!!)
Things Done Wrong:
Don't live or train at altitude. Did not do enough long runs this summer. Could not talk any of my running buddies to join me in this race (too bad for them).
Any Other Stuff:
Once again thanks to all the racers, volunteers, organizers and the whole town for a great racing week end.
***********************************************
Pikes Peak Marathon — Pikes Peak — 08/16/2009
Melissa Marr reports:
Distance: 26.2
Goal: finish
Results: Ascent: 4.02.30-total: 6.33.30
General Summary:
Great weather! Knew the trail pretty well and all the possible bathroom stops :)
I was hoping for under 4 hours to the top with the second (personal reasons) for under 4.03 to the top. It was very congested along the golden stairs with runners coming down, so I was unable to push as hard as I wanted. I did, however, make the goal of under 4.03. That was a great personal victory and gave me something to be proud of on the way down.
The trip down went pretty well until I realized with 5 to go that I had neglected to eat anything coming down! Dumb mistake. I felt like I wanted to hurl the rest of the way, but was past the point of being able to eat without hurling. I guess the excitement got the better of me and I overlooked the eating aspect!
Things Done Right:
trained a lot! Made sure I spent a lot of time at altitude and practiced eating during training runs. Paced myself well and kept a positive attitude even when it was congested at the top! Passed numerous runners between Barr and treeline.
Things Done Wrong:
Forgot to eat on the way down. I am sure my time down would've been a lot shorter if food had been ingested!
Any Other Stuff:
Thanks to the volunteers, especially Larry who yelled at me on top to stop celebrating and get off the mountain! I'm going already!!!!Geez!
This was my best performance all year! I am glad on race day I was able to be my own shining star! Next year I may actually have a time goal!
***********************************************
Pikes Peak Ascent — Pikes Peak — 08/15/2009
Beverly Weaver reports:
Distance: 13.32
Goal: 5:55:17
Results: 5:58:49

General Summary:
Nice day for a run.
Felt pretty good until the last 3 miles. Still, the training that we did at altitude helped me to pick a pace that I could maintain until the finish. Too many folks back where I am were sitting around on rocks waiting to feel better. Not a good idea....
Things Done Right:
Nine months of training with Incline Club, reasonable pacing, GU every hour, carry just a bit water between aid stations, plenty of altitude training in last month
Things Done Wrong:
Need more distance training late in the season. After BTMR, we did more altitude and less distance.
Could stand to lose more weight.
Comments on Calculator:
I always use the pace calculator, but I have to push it a bit to make sure that I get to Barr Camp and A-Frame by the cutoff times, since the 6 hour times from the calculator would mean that I would be turned back at one of these places.
Any Other Stuff:
Great volunteers... good weather made for a pleasant experience.
***********************************************
Barr Trail Mountain Race — Manitou Springs, CO — 07/12/2009
Yvonne Carpenter reports:
Distance: 12.5 miles
Goal: under 3h....hopefully closer to 2:45 please?
Results: 2:23:18
Website: http://www.runpikespeak.com/
General Summary:
I wanted a BTMR tech shirt this year and figured the only way to guarantee that would be to run the race. Besides, last time I ran the BTMR was the FIRST one, 9 years ago so it was time to do the evil downhill again....
Things Done Right:
I had absolutely no expectations except to finish within the cutoff — hopefully under 3 hours.
I did not have planned splits.
I wanted to go up conservatively, but still keep in mind this is a race and not a training run!
I ran up solely based on effort and not "hope for time x at BC".
Had gloves on for the downhill.
Ran my race regardless of who was behind or ahead of me.
Things Done Wrong:
Could have pushed more on the downhill — once I was happy with my BC time, I lost motivation to inflict more pain on myself!
I ran as usual through the aid stations — I do not think I can get enough fluids that way....
Was too worried about falling down on the downhill on the days preceding the race — I need to type for a living and was afraid of chewing up my hands in case of a fall....I think that made me shut down the engines too soon on the downhill section.
Any Other Stuff:
I was very surprised with my BC time (~ 1:34h) given that my fastest training run time to BC was 1:57h this season — yes, you need to take away the ~13 min that it takes to get to the COG, but that is still 10 min faster than in training! Not sure how I pulled that off....I guess I don't "race" my workouts! The round trip was only 7 min slower than in 2000 BK (BK=Before Kyla!)so it was not bad for an old fart.... I actually forgot how much fun the downhill was! I had a great time seeing all the ICers busting lungs and legs to set the "pecking order" !!!!! Too cool! Might have to do it again next year...or maybe wait until the 20th ! Every 10 years seems to be the charm!
***********************************************
Pikes Peak Ascent — Pikes Peak — 08/15/09
Rita J. Cardin reports:
Distance: 13.1 miles
Goal: 4:45
Results: 5:09
General Summary:
A run/power hike up Pikes Peak.
Things Done Right:
Trained with the Incline Club a few Sundays and 8 or so Thursdays, kept a positive attitude throughout the race, smiled for the cameras!
Things Done Wrong:
Not enough quality sleep in the days leading up to the race and didn't train enough Sundays and Thursdays with the Incline Club.
Any Other Stuff:
I had a good time even though I didn't meet my goal!
***********************************************
Leadville Trail Heavy Half — Leadville — 07/11/2009
Kelly Jackson reports:
Distance: 15 miles
Goal: 3 hours
Results: 3:39
Website: http://www.leadvilletrail100.com/
General Summary:
Best aid stations of any race I've run.
Things Done Right:
Did lots of prep on the Barr Trail, hired a endurance trainer and ran with some friends.
Things Done Wrong:
Should have scouted and run the race course ahead of time.
Any Other Stuff:
The top 3 miles were tough running on boulders with no secure footing. Cost me a lot of time on the way down. It felt very stressful and once I was on terra firma again, I felt the tension leave my body. Beautiful day.
***********************************************
Pikes Peak Marathon — Pikes Peak — 8/16/2009
Kelly Jackson reports:
Distance: 26.2
Goal: 6 hours
Results: 7:09
Website: http://www.pikespeakmarathon.org/
General Summary:
My favorite trail race. Who can ask for a more beautiful location in our own backyard?
Things Done Right:
Hired a trainer to help with the endurance and strength training needed to improve my times. Trained with the Incline Club and ran with some awesome friends. Tapered correctly, so I was very rested the day of the race. Ate all the normal meals and hydrated lots prior to race day.
Things Done Wrong:
Can't think of any. Wished for warm, dry weather on race day and I felt it was too hot. I much prefer to run in cooler weather.
Any Other Stuff:
Suffered from an upset stomach from the start. I can't complain about the race results though because I shaved over an hour off of last year's time. I didn't hit my goal so I'll have to try again next year.
***********************************************
Pikes Peak Ascent — Pikes Peak — 08/15/2009
Yvonne Carpenter reports:
Distance: 13.1 miles
Goal: 3:50 (possibly 2:45 if the stars are aligned!!)
Results: 3:32:51 (ALL TIME PR ! )
General Summary:
Phew.....what a relief it is over! We work so hard all year to pour it on the trail this one day. We hope we feel well that day and that nothing under our control is against our plan. We cannot control the weather or what other people are doing, so there is no need to worry about that. We can only try to execute our plan to the best of our ability, that day, at that moment. And how bizarre it is to run on OUR trail with hundreds of other people you never met before and the sense of entitlement, almost resentment, that develops when you try to run and you can't because there is no room, or you cannot take your preferred line on a section (basically engraved in your brain and legs at this point!) because someone is already there! How dare them! This happened many, many times on Saturday, but what also happened was the familiar pain in each section....if I could just maneuver around these people and now around these over here and those over there....there it is ......I knew that stupid Fred Barr sign was so mewhere....just a hop to the finish now and by God that is the most agonizing and long hop in the world!! And just like that, it never feels that good to see Larry Miller!
Things Done Right:
- Did not try to "test" myself on the trail on the week preceding the race.
- Spent a lot of time on top of PP during the 2 weeks before the race.
- Did full ascents from race start to have an idea of what could be expected race day.
- Did not have breakfast with friends the day before the race on a trip to Denver.
- Went on my pace regardless of what others were doing or who was passing me.
- Constantly gauged my condition to make sure I could keep up that pace to the top.
- Walked through the stations and had at least 2 full cups of water or Gatorade on each station, including A-Frame and the last one with the terrible tasting water :-)
- Ran by effort and not by time/splits.
- Put on the pair of gloves I found on the trail
Things Done Wrong:
- Decided to leave my wind breaker behind at the start line (stupid, stupid, stupid)
- Did not take the little rocks from my shoes before I put them on IN THE MORNING. I tried to manage "their" location in the shoe throughout the race( I prefer them in the toe section , in the front of the shoe, as they do not hurt as much) and carried them all the way to the top!!
Comments on Calculator:
Did not use the calculator this year as I did not want to run by splits, but my splits after the fact were in sync with the calculator for my ascent time except for the one at Ruxton which we know can be off as we are running flat at that point.
Any Other Stuff:
As with the BTMR, I really did not have high hopes of a good clock time for this race. I will always pursue the 3:16 ascent time (just to beat Matt's round trip record...)but knew that would have to be done on another year. I did 2 full ascents this year before the race, 2 weeks apart. I normally try to get in at least 4, preferably 6....but ran out of time. The first ascent from race start was a 3:50, with a terrible bottom section to the point I thought I should walk back down from BC instead of pressing on. But after drinking a full bottle of Gatorade, taking a gel, and another half bottle of water at BC, I pressed on to have a great top section, first time to the top this year. Why is that important? I learned a few things on that "training" ascent: 1) I do not drink enough. I was totally dehydrated at BC. So I decided I had to drink more during the race to avoid the same problem, and decided I was going to still not carry any water with me, but walk through the aid stations instead of runn ing, and drink a full 2 cups of water/Gatorade at every station. 2)I confirmed during that training ascent that despite a lousy run on the bottom section, you can still have a descent time on top and make up for it. So it is not worth being disappointed or quitting as you never know....
The second training ascent was also very useful in that it was a 3:51 where I yacked the WHOLE way to the 2 mile sign. Then I put my head down and ran hard the last 2 miles. That was done 3 weeks before the race . So if I could yack and do a 3:51, and it felt easy, I thought it would be safe to assume I could do a 3:45 race as I would be rested and hopefully would not be talking! The point is that you get to test things during these full training ascents if you do not race them ! (I never do)
Race day came, and I had the peace of mind of knowing that I could take it easy if I wanted, and do a 3:50 or maybe 3:45. OR...I could make it hurt and ride "the line" and see what I really had in the tank. I was feeling great jogging to the park from home race day, and decided, why not? I am definitely not getting any younger.... this year is as good as any.... So I charged out of the comfort zone. I went by effort, not "time to here or there." Don't take me wrong, I still took splits on all the popular places, but those were reference points only, I was not going faster or slower after seeing them, I just kept a pace that was not easy, but I knew I could stay on to the end if need be. And as I went up, and got closer to the top, I could take more chances. I hit No Name at exactly 1h. Then BPS at 1:22 and BC at 1:45. And it felt comfortable. Looking at the time alone I would have thought I was in trouble (when was the last time I was at BC in 1:45!!!??). But given that I still felt v ery good, I thought, hey, the wheels might fall off at treeline, but it certainly does not feel that way right now. And if the wheels do fall off, I guess I could just walk the top 3 miles along with everyone else! :-) So let's wait for the "wheel bolts" to come off first before I decide to slow down.... As I got to A-Frame at 2:32, I started feeling like I was pushing now.... It no longer felt "comfortable," but I knew I could keep that up to the top. So I continue to disregard the watch and decided I was not looking again until 1-to-go sign. That is where I got cold.... VERY cold. The wind picked up and the clouds hid the sun and the trees were gone....My hands were so cold I could not even make a fist. That is when I realized what a big mistake it was to ditch the 2 oz jacket at the start — I always bring it, always — but made a split second decision of stuffing it on the drop bag at the start line once I saw no clouds in the sky — too bad you cannot gauge wind speed at 12,000 feet from the start line!!!! I decided I could not get distracted with how cold I was and pressed on. Besides, the harder I ran the warmer I would get!! Breathing picked up considerably and I made a point of not allowing others to induce me to walk. Not for pride, as at times I run slower than most can walk, but I loose my rhythm, and I walk SLOOOOOW! So walking for me is reserved for the real steep stuff that I would walk as fast as I could run it — then I walk. But seeing a line of people walking in front of you is very tempting....I saw a total of 4 people running from A-frame to the top (on and off) besides me: Jeff Bernardy (ICer), Ben Chavez (ICer), John Garner(ICer), and the lady I passed after the 16 Golden Stairs (no idea of her name!) I might have easily passed over 40 people on the top 3 miles. Oh yeah — guess what I found 1/2 mile after A-Frame, nicely laid down on top of a small boulder, clean and my size? YES! A pair of gloves someone ditched or lost. I bent over and grabbed them in a split second instinct. What are the odds of that!!!??? 5 min later I was as warm as a fresh pie! Once I got to the 1-to-go sign, I looked at my watch — 3:12, almost exactly. And that is when the little runner in me decided I owed it to myself and the effort already put in that day to at least try to set a PR (previous fastest ascent was 3:33:35 during the 2001 Marathon). I had run that last mile 6 times this season — twice during full ascents, once during a MV-BC-Top run, once on TOP-2-to-go-TOP run and twice just that mile alone. So I knew well what I could do rested and not rested. And the fastest I had done it was a 21:36....when I ran ONLY that mile! Hummm....I thought, if I could run it a little faster right now, I can PR... I have to try. I do not want to spend all year hitting myself for not at least trying. So a little race within the race started and to make a even longer story a little shorter, I ran it almost a minute faster that in training. When I shot up the last "S 8; turn to the finish and saw that clock saying 2:32:something I could not believe my eyes — Holy cow, I actually did it! I cannot describe the feeling — it was finally ok to acknowledge that I was tired!
***********************************************
Pikes Peak Marathon — Pikes Peak — 08/16/2009
Gregory Stock reports:
Distance: 26.2 miles
Goal: 6:00:00
Results: 6:32:51
General Summary:
Everyone knows this one.
Things Done Right:
Finished upright within the cutoff time.
Things Done Wrong:
Pretty much everything else — ran to Barr Camp too fast, too slow on the rest of the ascent, didn't run hard enough on the descent until I got past No Name Creek.
Any Other Stuff:
The organization and volunteers were absolutely great. It's hard to believe how well this race is organized. Everyone involved has my gratitude and admiration.
***********************************************
Pikes Peak Ascent — Pikes Peak — 08/15/2009
Wes Thurman reports:
Distance: 13+ miles
Goal: Avg 160bpm and see what time shakes out
Results: Averaged 160 exactly w/time of 3:28:27
Website: http://pikespeakmarathon.org
General Summary:
Great day for first time running the PPA. ~10th out of ~900 in Wave 2 fwiw.
Things Done Right:
Maintained steady effort.
Hydrated, fueled well- aid stations supplied everything that I needed.
Trained on each section of course with Garmin watch- training stats helped a lot to plan out race pacing.
Things Done Wrong:
I just started training this past year so I did not have time to get an official qualification time.
I was stuck in Wave 2 so had to pass 200+ wave 1 runners above Barr Camp.
Did not need the jacket tied around my waist.
Comments on Calculator:
split/avg heart rate
Ruxton 3:27/142
Hydro 8:10/154
W's 28:42/158
NoName 18:54/160
7.8 20:54/159
Barr 22:22/161
BP 15:43/160
A 28:32/160
2 20:38/160
1 18:16/158
finish 22:49/158
Split calculator worked great. Made time on calculator on flat sections after NoName and lost time fighting through zombies on top part.
Any Other Stuff:
Race start porta potty attendants/organization were A+.
Sweat check dropoff wait time: 0 seconds
Finisher medal wait time: 0 seconds
Bag pick up at top wait time: 2 seconds
Jacket pick up wait time: 20 seconds
Wait time for shuttle down: 2 seconds
Amazingly efficient — well done PPA organizers!
***********************************************
Pikes Peak Marathon — Pikes Peak — 08/16/2009
Michael D reports:
Distance: 26.2 miles
Goal: 5 hours
Results: 6:44
General Summary:
It was a great day for running. Even though I was not close at all to my goal I can claim family bragging rights on my ascent time by 1 minute. I also took 20 minutes off my total to get me under 7 hours for the first time.
Things Done Right:
I trained as much as possible. When I could I would run with the club. Felt good all the way down not to tired.
Things Done Wrong:
1- Did not train enough.
2- Did not train enough above tree line.
3- Could have pushed myself on last 2 miles of ascent but did not.
4- Did not push myself on descent where I could run faster.
5- Every year after the race I tell myself next time will be different. But it always seems to be the same, if I am able to run next years race. I am going to fully commit myself and finally see what I can do instead of just showing up.
***********************************************
PPA/PPM Double Volunteer! — Pikes Peak — 8/15-16/09
Laura Kelecy reports:
Distance: 13 & 26
Goal: High Energy for Two Days
Results: Achieved!!!
General Summary:
I volunteered at the Barr Camp aid station for the PPA & PPM, handing out water & Gatorade & helping out in the kitchen a little. Weather was beautiful and the runners were awesome. It feels good to give back to the sport we love so much.
Things Done Right:
Wore my rain pants & jacket because I was handing out liquids — I got drenched a couple of times! This whole aid station crew was wonderful. We kept our enthusiasm high and cheered as much for the first runner as for the last runner, both days. Our main concern was the runners and I'm pretty sure we supported everyone and most left with a smile on their face.
Things Done Wrong:
Should have been more help to the Taylor's in the kitchen. I brought too many layers of clothing. We were in the same place last year so we know cold & wet! I prepared for more of the same this year, but thankfully didn't need all the layers!!!
Comments on Calculator:
No need.
Any Other Stuff:
I think we had the cush job — cabin, kitchen, composting toilets, lean-to w/ mattresses. I take my hat off to those higher up (A-Frame, Cirque). Not that we didn't work hard tho! It warmed my heart to see most all the runners greet Neal & Teresa — everyone loves them and it shows what support & TLC they give everyone who trains on the Peak. Most runners would ignore us at the water table until they gave Neal & Teresa a high five, hug, even gooey banana kisses on the cheek! Most all of the runners told us "thank you for being here." We volunteers really appreciate being appreciated. I didn't know any other members of the aid station crew before going up, but now have a new group of friends! If you've never volunteered for a race before, I highly recommend it!
***********************************************
Leadville trail 100 — Leadville Co — 8/22/09
Mark Nagel reports:
Distance: 100 mi
Goal: Finish
Results: 28hrs 22min (unofficial
General Summary:
Came into race week with all my ducks in an order. Only had some of the so called ducks go wild that week but able to pull everything together in the end and finish the race. The weather was great-was able to run the entire time in just basic running gear.
Things Done Right:
Three words "Train very hard." Ran with the club for most of the training season but the last several before the race trained in Leadville. This was my third attempt at finishing this race. The last times I'd forgotten headlamps (hard to run in the dark), or still exhausted from a previous weeks event.
Things Done Wrong:
Nothing
Any Other Stuff:
I knew I was doing good when I came in to the half way point a full hour ahead of schedule. Of note, it was so warm I'd lost nine pounds by the halfway point but was able to regain seven pounds by finish.
***********************************************
NEWSLETTER SUBMISSIONS:
***********************************************
Additions to Incline Club News from IC members are welcome and encouraged. Submit a Newsletter Item at:
http://www.inclineclub.com/newsletter.htm
***********************************************
ACCOUNT SETTINGS:
***********************************************
To change your e-mail address or unsubscribe from the Incline Club newsletter go here:
http://www.inclineclub.com/membership.asp
---