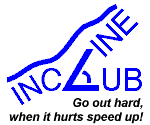 2009 Incline Club V13 LR #13 — Volunteers Needed
---
Incline Club V13 LR #13 — Volunteers Needed
Sent: Wednesday, February 18, 2009 7:42 PM
Subject: Incline Club News V13 LR #13 — Volunteers Needed
Good Evening Incline Club!
How do we top last weeks excellent run to to Barr Camp? Easy, this week we have another great run scheduled with unseasonably warm weather to go along with it!. We also have a call for volunteers to collect data for a science project and a good number of race reports.
***********************************************
NEXT RUN: Waldo/LRR Double!
***********************************************
Sunday, Feb 22, 8:00AM — Memorial Park
Waldo/LRR double! Run the UPT and then head over and do Waldo Canyon — clockwise. Next, head up LRR and return via the Barr Trail. 3-4 hours, if it would be longer just do Waldo or LRR.
Screw Shoes recommended!
***********************************************
THIS WEEK'S QUOTE:
***********************************************
It is the man who has done nothing who is sure nothing can be done
--Ewing
***********************************************
Science Project Volunteers Needed!:
***********************************************
Tim Allison Writes:
One of my sons is conducting a science experiment on Gatorade and athletic performance and he needs a bunch of volunteers.. (Yes, this is a mandatory science fair school project.) I really appreciate any help you can give him. Here is the experiment.
Volunteers need to do two runs. Each run should be approximately 10k and should be spaced far enough apart that you recover completely. 1/2 hour before one run, drink 20 oz of Gatorade. 1/2 hour before the other run, drink 20 oz of water. Please randomly decide if you are going to drink water or gatorade before your first run. Run at lactate threshold (10K) pace for as long as you can but do not exceed 6 miles.
Email the following data to timd_da@hotmail.com by Feb 28th: date, which beverage you drank, how long (time) you ran, how far you went (distance), how long you maintained your 10k pace, and your average pace. Other data (start and stopping heart rate, weather, moon phase, etc.) is nice but not required.
If you happen to have very detailed running logs that would contain similar data, please send those along.
Try to make both runs as similar as possible, but don't go overboard. That is, same course, same shoes, same time of day, same amount of alcohol the night before, same number of cigarettes during your run, but don't worry about things like amount of sleep, temperature, etc. I don't know what to do about the freaking wind, but if you're like me, you don't like to run fast on windy days, anyway.)
***********************************************
Weekend Weather Report:
***********************************************
The local weather stations are calling for starting temps in the mid 30's, almost no cloud cover and high temps in the mid 50's. Lets hope they are right.
***********************************************
Race Reports:
***********************************************
This week, Mike Sandlin continues his quest for *'s from Texas, Anita Bower chases last year's count of 10 race reports, Andy Kovats discovers that skiing is a great way to travel over snow and Gordon Barnett travels down to Texas to see if Mike's speed is due to the lower altitude.
Frisco Gold Rush XC Ski races — Frisco Nordic Center — 02/01/2009
Sedona Marathon — Sedona, AZ — 02/07/09
Austin Marathon — Austin Texas — 02/15/09
Surfside Marathon — Surfside, Texas — 02/14/2009
***********************************************
Frisco Gold Rush XC Ski races — Frisco Nordic Center — 02/01/2009
Andy Kovats reports:
Distance: 10K/20K
Goal: Improve over last year, race myself into shape
Results: About the same as last year, definitely got my money's worth
Website: http://www.emgcolorado.com/race_salomon.html
General Summary:
Did the 10K striding race followed by a 45 minute recovery and then the 20K skate race. Got a poor start in the stride race, had slow skis and then found it was much tougher to pass people than I thought it would be. The 20K race hit every major hill at the Nordic Center and was probably 1.5km long, so I was ready for the finish line. The beetle kill pines have been mostly thinned out, so the tracks were blown in with snow but the mountain scenery is all the better.
Things Done Right:
Dryland training has gone well the past few weeks including more strength training this season and also some good rollerski workouts in the Garden of the Gods. So I was reasonably strong on the hills and felt OK about my fitness.
Things Done Wrong:
Travel for work and other commitments caused a lot of lost training time the first half of the season, and lack of local snowfall limited my time on snow later in the season. I would normally have a couple more races under my belt by now but these were my first ski races this season. I drank a whole bottle of water-electrolye after the 10K but still managed to get cramps in my triceps so the last 5K of the skate race was a little ugly.
***********************************************
Sedona Marathon — Sedona, AZ — 02/07/09
Anita Bower reports:
Distance: 26.2 miles
Goal: Top 3 women
Results: Overall female winner 3:35;52
Website: http://www.sedonamarathon.com
General Summary:
I went into this race not sure what to expect. I really wanted to run it under 3:30, but I soon learned that a sub 3:30 marathon is a lot harder than it sounds, especially for a runner like myself who trains predominately for ultramarathons, where speed is often compromised. it was a hilly course, at an altitude close to Albuquerque, where I am currently gritting my teeth, I mean residing, until I permanently moce back to Manitou later this year.60% on pavement, 40% dirt roads.
Things Done Right:
Ate very little the day before, sub 1100 calories, my normal daily intake, (unless I am running a 50 or 100, then lots more the week of and during the race), being around 1200, sometimes less. Less food in the intestines to battle with race morning, and indeed this worked out well for me. No time lost to making brownies in the bushes during the race! Lost three pounds for this race. I wanted this to be my fastest marathon, even though a 3:35 marathon isn't exactly fast. I had ran a 50 miler and 50km in CA back to back just two weeks earlier, ( been too busy to send in RR yet) as training runs for an upcoming 100. It was an out and back course, and I paid close attention to where the hill were, so I could really fuel properly for the return trip, which is where I usually end up snagging the people who went out too hard, and didn't drink or fuel enough early on. Quickly realizing that the last 5 miles were mostly uphill, I figured I could come in top 3, given I saw no fast ICer's on the entrants list.( I won't mention any names, Conilee!) On the turnaround, I saw I was in third as planned, but caught up with the second place female who was 13 years younger than me around mile 17. Her and I leap frogged each other, but she failed to take in enough calories or enough fluid for the steep climbs at the finish. The course officials laid out boards over the numerous cattle grates, and I could hear her once powerful one-step thunk over the wooden board turn to two within a mile. I knew I was creating a bigger gap between us and she was tiring. So this meant I was in second. As I've always thought, there is something crappy about being number 2,(pun intended) unless there is a descent prize or money for consolation. I had learned at the start of the race that they were giving a prize of $1400 in airfare for the first place male and female, plus $300 in gift certificates. And being that there is a 100km in April in Washington I want to do, I began to think it might be a good idea to try and win thos e tickets, instead of lap dancing for them (JUST KIDDING!). But upon the turnaround I could see that the first place female was about a mile ahead of my, and being "paced" by an ultrarunner who had beat me at the Run With An Angel 50 in January by 8 minutes. I knew I would have to go out of my comfort zone, both physically and mentally, and kick it in. But I had no way of knowing how close or far I was to her, seven miles out from the finish. I downed a few gels, some of my "ultra-crack" and some e-caps, and some fluid, for I knew if I had any chance of snagging her, it would be on the hills on the way back. My strategy had worked. I saw two runners side by side going around a turn. The runner on the left turned her head to look for traffic, and I caught a glimpse of a pony tail. But she saw me too, and later I learned, her friend had been pushing her, wanting her to win. She wasn't going down without a fight, but I could see her looking back for me. I knew she was scared. Then her 147;friend" kept looking back, and once he figured out I was going to overtake her in the last few hundred feet, finish line in sight, he took off, to beat me. Turns out with the chip timing I later learned I beat him too by one second. But last years female winner won it in 3:09, so I have some work ahead of me. I was at least a decade older than the 2nd and 3rd place females, which is encouraging. Maybe with enough Botox, Juvederm, silicone and marathon and ultra wins, this approaching 40 thing won't bug me as much!
Things Done Wrong:
I got a long way to go as far as conditioning goes if I want to break 3:30, or in my dreams, a 3:15 marathon. With some speed work, my finish would not have been as agonizing. I was panting like a dog those last hundred feet. I wore a bit much, but couldn't have a crew to take my stuff for me, and I didn't want to risk losing seconds at this race, which proved to be a wise choice, given I beat her only by 28 seconds. but I got my plane tickets for the 100km in April, and am hoping to qualify for another ultra marathon. And NO, not Badwater next year, given that this year's entry fee went up to $800. Seriously. $800. Besides, I did it "twice" last year.
Any Other Stuff:
Very well organized, safe course, great volunteers and aid stations, and if your into kooky astrological, energy vortexes, and other metaphysical things like me, then Sedona is a great place!
***********************************************
Austin Marathon — Austin Texas — 02/15/09
Gordon Barnett reports:
Distance: 26.2
Goal: 3:45:59
Results: 3:46:09
Website: http://youraustinmarathon.com/index.php?option=com_frontpage&Itemid=1
General Summary:
4051 Finishers — 2456 M / 1595 F
Distance MAR
Clock Time 3:49:18
Chip Time 3:46:09
Overall Place 817 / 4051
Gender Place 660 / 2456
Division Place 39 / 201
3M Rank 953
3M Time 25:32
10M Rank 1013
10M Time 1:25:29
13 1M Rank 701
13 1M Time 1:52:01
20M Rank 779
20M Time 2:51:19
Mar Fin Rank 696
Mar Fin Time 3:46:09
Things Done Right:
Ran with the 3:45 pace crew.
Enjoyed Austin, the bands, and the crowds.
Things Done Wrong:
Fell off pace in the last mile.
***********************************************
Surfside Marathon — Surfside, Texas — 02/14/2009
Mike Sandlin reports:
Distance: 26.2 miles
Goal: sub 3 hours
Results: 2:57:15
General Summary:
This is one of only a few marathons in the country that is totally on the beach. The sand is packed, which makes this run very runner "friendly" on the body. Total course elevation is approximately 10 feet (ok — stop laughing).
Things Done Right:
Ran even pace throughout the race.
Things Done Wrong:
Should have been running up to Barr Camp with my fellow ICERS!
Any Other Stuff:
The things we will do for a *!
***********************************************
IC BIRTHDAYS: 2/18/2009 — 2/24/2009
***********************************************
Alex Eusebio:
http://www.inclineclub.com/show.asp?name=Alex%20Eusebio
Barrett Cooper:
http://www.inclineclub.com/show.asp?name=Barrett%20Cooper
Bill Tarvin:
http://www.inclineclub.com/show.asp?name=Bill%20Tarvin
Charles Corder:
http://www.inclineclub.com/show.asp?name=Charles%20Corder
Dave Vandenberg:
http://www.inclineclub.com/show.asp?name=Dave%20Vandenberg
Elizabeth Ahola:
http://www.inclineclub.com/show.asp?name=Elizabeth%20Ahola
Kay Locke:
http://www.inclineclub.com/show.asp?name=Kay%20Locke
Laurie Pearce:
http://www.inclineclub.com/show.asp?name=Laurie%20Pearce
Lori Barney:
http://www.inclineclub.com/show.asp?name=Lori%20Barney
Matt Von Thun:
http://www.inclineclub.com/show.asp?name=Matt%20Von%20Thun
Rachel Crawford:
http://www.inclineclub.com/show.asp?name=Rachel%20Crawford
***********************************************
NEW IC MEMBERS: 2/11/2009 — 2/17/2009
***********************************************
Alyson Tittman:
http://www.inclineclub.com/show.asp?name=Alyson%20Tittman
***********************************************
UPDATED ABOUT ME PAGES: 2/11/2009 — 2/17/2009
***********************************************
Dwayne Gibson:
http://www.inclineclub.com/show.asp?name=Dwayne%20Gibson
Karen Brandenburg:
http://www.inclineclub.com/show.asp?name=Karen%20Brandenburg
Mark Schulz:
http://www.inclineclub.com/show.asp?name=Mark%20Schulz
Pablo Najera:
http://www.inclineclub.com/show.asp?name=Pablo%20Najera
Stephen Martin:
http://www.inclineclub.com/show.asp?name=Stephen%20Martin
Steve Pero:
http://www.inclineclub.com/show.asp?name=Steve%20Pero


***********************************************
NEWSLETTER SUBMISSIONS:
***********************************************
Additions to Incline Club News from IC members are welcome and encouraged. Submit a Newsletter Item at:
http://www.inclineclub.com/newsletter.htm
***********************************************
ACCOUNT SETTINGS:
***********************************************
To change your e-mail address or unsubscribe from the Incline Club newsletter go here:
http://www.inclineclub.com/membership.asp
---