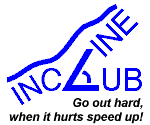 2008 Incline Club News V12 LR #1
---
Incline Club News V12 LR #1
Sent: Wednesday, November 21, 2007 4:14 PM
Subject: Incline Club News V12 LR#1
Happy Thanksgiving, Incline Club!
Our first run of the season is this Sunday, November 24 at 8:00 A.M. Meet in Manitou's Memorial Park and be ready to run! The forecast for Sunday is for a high of 50* and mostly sunny skies. See ya there!
Train hard and train smart!
~Connilee
************************************************
ICers Write
************************************************
Hi From a New Member
Megan Higgins writes: Hi, What a great club. I was looking for something like this. I just moved back to the Springs!
***
Rampart Shooting Range Proposal
Randy Lindsey writes: Many of us are familiar with the shooting range on Rampart Range Road, just above where we branch off down into Williams Canyon. The Forest Service is considering some changes to the range, and is seeking public comment until 12/31.
You can see their request at http://www.fs.fed.us/r2/psicc/projects/pp_scoping_rec_112007.shtml
Send your comments by email (be sure to put "Rampart Range Shooting Comments" in the subject line) at http://www.fs.fed.us/r2/psicc/contact/feedback/ or by postal mail to: District Ranger, Pikes Peak Ranger District, 601 S. Weber St., Colorado Springs, CO 80903
Be sure to make your comments as specific as possible, and include your name and address.
My experience with past USFS projects is that they do pay attention to comments, especially when there are a lot of them! They are sensitive to public perceptions.
I have heard ICer's concerns about our safety on the established trail down into Williams Canyon. In fact there are now signs down in Williams Canyon advising uphill travelers not to go up that way due to shooting.
The shotgun area of the range aims down into the canyon, but shotgun pellets should probably not go far enough to endanger people on the actual trail. But I think sometimes people aim rifles in that direction, and that is a real concern. Personally I'd like to see the shotgun area reoriented so that nobody ever has a reason to point any kind of firearm into Williams Canyon.
Last but not least: if you submit a comment via their web site, compose your comment elsewhere and paste it into their form, or at least save your comment first. The form may not accept long comments...mine errored out.
************************************************
"R" Reports
************************************************
Pikes Peak Double — Manitou Spgs, CO — Aug 18/19, 2007
Timothy Edwards reports:
Distance: Plenty
Goal: beat cutoffs with achilles tendon injury
Results: 4H:22Day1; 4:45 Ascent Two; 7:40 Marathon
General Summary:
Hard to do well with aching achilles tendon problems. Wanted to finish both races, making it my 9th consecutive Double and 10th consecutive Ascent.
Things Done Right:
Stayed fed, kept appropriate pace for achilles trouble. Finished both races, even felt good enough to run full blast from Hydro down to marathon finish.
Things Done Wrong:
Tried to keep up with Glen Ash in prior race, BTMR.
***
PPMarathon — Manitou Springs CO — August 19, 2007
Stephen Martin reports:
Distance: 26.2 miles
Goal: 6 hours
Results: 6 hours 10 mins
General Summary:
A very warm day overall, above tree line was unusually warm. Definitely happier with my uphill time as opposed to downhill.
Things Done Right:
Worked hard into Barr Camp and was pretty happy with my time, just 5 mins off from my previous marathon best. Times to A-Frame were pretty good, within range.
Things Done Wrong:
Endurance could have been a lot better on the downhill, however I can't complain too much as I thought I would be walking from No Name on in to the finish.
More downhill work during the last month of training.
Any Other Stuff:
Great race organization. Good job to all PPA/M volunteers.
************************************************
Non-"R" Reports
************************************************
Pony Express — Rampart Reservoir — Sept 16,2007
Cindy Thompson reports:
Distance: 15 miles
Goal: 3:30
Results: 3:39
Website: http://www.pprrun.org
General Summary:
This run k-i-c-k-s. Kicks butt, kicks endurance, kicks run time! At least for this newbie.
Things Done Right:
Took it easy when needed and ran out hard when I could
Things Done Wrong:
Needed to take more hydration; ran too much on a solues strain
Any Other Stuff:
Course is great, perfect weather, awesome views and great camping the night prior to the race, my kids loved that part; I didn't come in last, but my worst time ever. Also my longest run ever. Still had the time of my life! I love doing runs that just wipe me out. I'll be back next year for more punishment, but hopefully with a better time!
Hardest thing I have ever done/run
***
Portland Marathon (Oregon) — Portland OR — 10,2007
Margaret L Cox reports:
Distance: 26.2 miles
Goal: To maintain reasonable pace and finish
Results: Maintained pace as planned and finished.
Website: http://www.portlandmarathon.org
General Summary:
Cool and cloudy. It did not rain. Portland is in a beautiful spot but much of the marathon went through the industrial & traintrack districts. However, a 2-mile section of curving bluff across the river was beautifully lined with mature giant sequoiahs. I will not return to Portland to run.
Things Done Right:
Trained enough and ran the race at planned race-pace. I carried my own gels. What was provided was not sufficient or good choices.
Things Done Wrong:
Although I trained enough, more training would have been even better


***********************************************
NEWSLETTER SUBMISSIONS:
***********************************************
Additions to Incline Club News from IC members are welcome and encouraged. Submit a Newsletter Item at:
http://www.inclineclub.com/newsletter.htm
***********************************************
WEBSITES:
***********************************************
Training for the Ascent and Marathon on Pikes Peak
http://www.skyrunner.com/guide/
Barr Trail Mountain Race
http://www.runpikespeak.com
presented by Pikes Peak National Bank
Incline Club
http://www.inclineclub.com
***********************************************
ACCOUNT SETTINGS:
***********************************************
To change your e-mail address or unsubscribe from the Incline Club
newsletter go here:
http://www.inclineclub.com/membership.asp
---