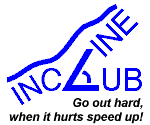 2007 Incline Club News V11 Pre Season
Off Season Wrap Up and New Season Start Up!
---
Incline Club News — Off Season Wrap Up and New Season Start Up!
Sent: Wednesday, November 15, 2006 3:06 PM
Subject: Incline Club News — Off Season Wrap Up and New Season Start Up!
Good afternoon, ICers!
Can you believe it's *that* time of year again? It is time to dust off the cobwebs and start thinking about putting some good runs under your belt -g et ready for the 11th season of the Incline Club!
***
Welcome to 'Newbies'!
If you are a new Incline Club member, you should know that The Incline Club is a trail running club that welcomes runners, walkers and hikers of all abilities. There is a very good chance that you will find someone at or near your pace at our weekly runs. So don't be shy, come on out for as many runs as you are able, or just live vicariously through the weekly newsletters (you'll probably learn a thing or two just by reading.). The club FAQs might be a helpful first read for you: http://www.inclineclub.com/faq.htm
***
Reminder to 'Oldbies'!
Welcome back to another season! Please take a minute to update your "About Me" pages. Some things that change from year to year are PRs, goals, e-mail addresses, family status, and running stories. You can also update your photos by sending them to (e-mail removed to prevent spam) (Please be patient since photos are manually updated, it sometimes takes a while! We'll get to them as soon as possible. )
***
Check the 2006 Boards
THIS IS YOUR LAST CHANCE TO CHECK THE 2006 * BOARDS BEFORE THEY ARE ARCHIVED!!!
Please check that you got credit for:
1) Your Barr Trail Mountain Race
2) Your Pikes Peak Ascent, Marathon or Double
3) The year end party (check for your family members also)
Email (e-mail removed to prevent spam) with any changes!
***
New and Old Features.
Last year, we added some new features such as Quote of the Week, Racing Calendars, Birthdays, Updated About Me Pages, New Members, etc. Would you take a minute to let me know what you especially liked or did not like? Any suggestions for this season? And if you'd really like to help me out, send me your favorite quote that does/can relate to running — I will include it in a future newsletter!
***
First Run of the Season
Sunday, Nov. 26, 8:00am — Memorial Park
It is time to start our 11th season!!! The first run is *10* days away — the Sunday after Thanksgiving. If you're wondering what you are in for, it will be a run out the UPT and take a right and head over to do the Waldo Canyon loop in the clockwise direction. Return via the UPT. 2-3 hours, if it would be longer do an out/back. Map: http://www.inclineclub.com/maps/waldo.htm
Train hard and smart!
~Connilee
***********************************************
NEWSLETTER SUBMISSIONS:
***********************************************
Additions to Incline Club News from IC members are welcome and encouraged. Submit a Newsletter Item at:
http://www.inclineclub.com/newsletter.htm
***********************************************
WEBSITES:
***********************************************
Training for the Ascent and Marathon on Pikes Peak
http://www.skyrunner.com/guide/
Barr Trail Mountain Race
http://www.runpikespeak.com
presented by Pikes Peak National Bank
Incline Club
http://www.inclineclub.com
***********************************************
ACCOUNT SETTINGS:
***********************************************
To change your e-mail address or unsubscribe from the Incline Club
newsletter go here:
http://www.inclineclub.com/membership.asp
---