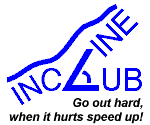 2006 Incline Club News V10 LR #1
---
Incline Club News V10 LR #1
Sent: Tuesday, November 22, 2005 10:41 AM
Subject: Incline Club News V10 LR #1
Howdy ICers!
Welcome to the 10th Season of the Incline Club!
As you are preparing for your Thanksgiving festivities, don't forget to schedule a way to burn that turkey off; the first IC workout of the season is on Sunday morning, 8 AM, at Manitou Springs' Memorial Park.
As some of you know, I (Connilee Walter) have the honor of being the new Incline Club newsletter editor! Because I'm a newbie to this role, I will do a quick intro and word of encouragement.
Six years ago, I came out for my first Incline Club run. I was nervous and knew basically nothing about running, but wanted to run the Pikes Peak Marathon. The folks in the Incline Club welcomed me and taught me many valuable lessons — many about running and some about life. ;) I took a risk in coming out that first time, but today I am fitter and better than I was six years ago.
So, my word of encouragement to you is: don't be nervous and don't be shy, whether you are a 'real' or 'virtual' member, a life-long runner or a beginner, come out and join us this season. Whatever you do, make it your best one yet.
If you've visited the Incline Club web Site lately (www.inclineclub.com), you'll note that the 'star' boards from last season have been wiped clean, and they are ready to be filled with our running adventures this year. Remember, we are all 'virtual' ICers again until we show up for a workout and are added to the star board!
Be safe, have fun, get fit.
Warmly,
Your newsletter editor....Connilee Walter
P.S. Your questions and submissions for the Incline Club newsletters are welcome. Send them to (e-mail removed to prevent spam).
***
Last season's stats:
276 Sunday runners
146 Thursday runners
328 different runners
60 club workouts and events
3,183 *'s
97 R's for different Races
83 B's and V's at the Barr Trail Mountain Race
62 P's at the year end party
53 A's and V's at the Pikes Peak Ascent
28 G's, V's at the Garden of the Gods 10 Mile run
25 M's at the Pikes Peak Marathon
15 S's and V's at the Summer Roundup Trail Run 12K
11 D's who did the PPA/M double
10 F's who came to just the vanFeed
6 P's who Paced at an Ultra
3 L's who did Leadville
3,576 total or 59.6 people per workout or 10.9 workouts per person
2004 season: 4,126 total or 68.75 people per workout or 11.0 workouts per person
***
From the Incline Club web Site:
As is the case every off season we get a lot of newbies sign up for the club and we get a lot of the same questions. Here are the standard answers to the most common:
Q) I am not quite up to running the whole loop, can I go part of the way?
A) YES! In fact a lot of people start out by running 30 minutes out and then turning around. If you are an IC newbie or if your off season was more "off" than "season" it is better to be safe than hurt! On the other hand, every year I bump into more and more people in October and November who are "training to get ready to train with the IC." Those who took a short break after the last season and then starting building up to get ready for the new season should be set to go the whole distance.
Q) I am slow, can I join the IC and will I be left behind?
A) Anyone can run with the IC. Also a lot of people have to do quite a bit of walking on the steeper stuff. However, the only way to find out where you will be in the group is to run with the group. One thing that is pretty much a given is that it is better to suffer now than later! The group gets stronger a lot faster than the individual and the people who come into to the club months down road often get a shock because the runs only get longer and harder.
Q) You have Memorial Park listed but say we are running in Manitou Springs, how do we get from there to there?
A) We meet at the Memorial Park in Manitou Springs not the more popular one in Colorado Springs. This is the park next to the city hall and police and fire stations or the 600 block of Manitou Avenue. Of course most of us know this place as the same location that the Pikes Peak Ascent and Marathon start:-)
Q) You say we are running Waldo Canyon but we are meeting in Manitou Springs so how do we get to Waldo?
A) We RUN:-) There is a connecting trail that you can learn about on the maps page of the club site or on Sunday when you come out to run with us.
***********************************************
NEXT RUN:
***********************************************
Sunday, Nov. 27, 8:00am — Memorial Park
Run out the UPT and take a right and head over to do the Waldo Canyon loop in the clockwise direction. Return via the UPT. 2-3 hours, if it would be longer do an out/back. See maps!
***********************************************
THIS WEEK'S QUOTE:
***********************************************
"And miles take time, but the time is mine."
Kasey Chambers
***********************************************
ICers WRITE:
***********************************************
Nancy Hobbs writes:
We wish ICer Stu Nieburg the best in his new home in Hillsboro, Oregon where he has landed a new job. Stu starts his job in December and has been out purchasing all-weather rain gear that will be useful in his new surroundings. http://www.inclineclub.com/show.asp?name=Stu%20Nieburg
Also, I'm looking for a house mate. I have a spare room/bathroom and garage. Can be short-term, or longer term. Nice house about 2 miles from Palmer Park. Quiet neighborhood. I know sometimes we have ICers looking for rentals...
***********************************************
CALENDAR:
***********************************************
Current version of the Incline Club calendar
***********************************************
IC BIRTHDAYS THIS WEEK:
***********************************************
Richard Benson
Cami Benge
Nick Hartlep
Jared Veteto
Daiva Cooper
Mary Begemann
Eric Billmeyer
Micky Sederburg
Suzanne Garney
Kevin Waters
Alan Ley
HAPPY BIRTHDAY!!
***********************************************
OFF SEASON NON R REPORTS:
***********************************************
John Mills reports:
Race = R2R
Location = Grand Canyon, AZ
Date = 13 Oct 05
Distance = 23.9 miles
Goal = 8:00 hrs
Results = 8:33

General = This is an officially discouraged run. 3 of us decided to do it, after far too much beer one night. This was not and has not been an organized race since the 90's. Logistic planning is a must. 200 miles by car separate the start and finish. 10 miles as the crow flies but 24 miles as the trail switchbacks. Mule piss will burn your nostrils. Do not step in it unless you want to sacrifice your shoes.
Right = Downhill and uphill training with the IC. We ran from the North Rim so our downhill portion was 14 miles long. The climb to the South Rim is 9.3 miles of uphill, some pretty intense. The steepness is close to Barr Trail but the N. Rim start altitude is 8,000' with the S Rim finish at 7,000' so breathing is radically easier. Temps were 30s at the start, 80s at the bottom, and a chilly, windy 60s at the finish. Dress accordingly.
Wrong = Got behind two mule trains. Mere bipeds are not allowed to pass the mules. We lost 15-20 minutes waiting for the mules to rest. We were sweaty and had to stop in the shade which quickly chilled us. We could see the cheering spectators (wives) but couldn't pass the mules. Do not use the Kaibab Lodge for food at the North Rim. The food is lousy.
Other Stuff = Train, train, train! There is nothing level on these two trails except the 5 bridges.
Plan, plan, plan. North rim frequently closes, due to snow by mid-Oct, and doesn't open until May. South Rim is a zoo, lots of tourists, vehicles, busses, a train and tourist stuff. North Rim is quieter, less crowds and a longer drive to get to. "Seasonal" water is available along the trail. current info on water is posted at the trailheads. We carried a mix of water bottles, small and large, with a Camelback. Food carried and consumed was PB&J sandwiches, GUs, Gels, energy bars, and cold boiled potatoes w/salt.
***
Dan Smith reports:
Race = Twin Cities Marathon
Location = Minneapolis-St Paul MN
Date = Oct 2, 2005
Distance = 26.2 miles
Goal = 3:20
Results = 3:27
Website = http://www.twincitiesmarathon.org
General = It was an unseasonably warm day, muggy, with the only salvation being overcast skies to take the sun out of the equation. A lot of runners took off too fast and paid dearly later. I was hoping to capitalize on the fitness gained by training well for this year's PPA, but as soon as I ran the first several miles, I knew it wasn't my day to shine. I backed off race pace from mile 15 to mile 23, thereby ensuring a strong finish anyway. I put my head down and charged the last 5 km, passing several runners in my age group for 14th place in 55-59. I wish they would hold this race later in October!
Right = Took plenty of fluids en route, paid attention to what my body was telling me about my fitness to continue redlining. Kept fairly aggressive tactically despite slowly down in the last half of the race. Really paid attention to the need to run the tangents on the often winding streets. It's amazing how many runners do not do this, instead just running parallel to the centerline and adding distance to the race.
Wrong = Probably went out too fast in spite of trying to be conservative. Don't think it hurt me by more than a couple of minutes time however.
Other Stuff = The warmer temps brought out lots of spectators who were< very vocal and supportive over the final miles, which is always good. This is my home course marathon, so to speak, but next year I may go out to Portland, which I think is more consistently cool for their marathon.
***
Stephen Mitchell Reports:
Race = The LaSalle Bank Chicago Marathon
Location = Chicago, Illinois
Date = 9 October 2005
Distance = 26.2 miles
Goal = 3:30:00
Results = 3:30:00 (on the nose)
Website = http://www.chicagomarathon.com/
General = Great expo, except they ran out of merchandise. Well organized. Outstanding support. Thoughtfully placed aid stations. Flat course! Temp 49-59, just right. Slight breeze. Mostly sunny after a cloudy start. Downtown run. Ran through various ethnic neighborhoods. Over 1 million spectators, they were everywhere. Great venue. Recommended.
Right = Trained consistently for 30 weeks. Followed the plan to meet the goal. Ran with my favorite running partner, my wife. Committed early to a "late" season race. Ran negative splits: first half in about 1:46:00; second half in about 1:44:00. Stuck to our "Galloway" plan. Best conditioning for racing, best I've felt after a marathon.
Wrong = Got stuck way back in the crowd. Obviously the people we were stuck with were not running our pace, although they stood right by the 8:00 pace sign. Took 8 minutes to get to start line. No big deal, except we had to tactically move through the crowd for about the first 15 miles.
Other Stuff = Sure was fun! Will do again some day. Flew in to O'Hare. Used Chicago Transit Authority transportation with a 3-day pass for $12. Great after party at the Navy Pier, 5 tickets provided for free food. Great shopping in the downtown (some really fancy stuff). Downtown was very clean for a large city. Recommend Giordana's pizza on the NE corner of the intersection of E. Superior and N. Rush.
***
Anita Bowers Reports:
Race = Wasatch 100
Location = Utah
Date = September 10th and 11th, 2005
Distance = 100 miles
Goal = finish
Results = 34:58:15
Website = http://wasatch100.com
General = 100 miles of Heaven and Hell is the race logo. I would have to agree with that logo. This 100 miler made Badwater look like a cake walk. There is over 28,000 feet of climbing and about 17,000 feet of descending, a lot of it on very crappy trails. Still, one of the best organized and beautiful races I have run, and I will definitely be back.
Right = Trained for it. LOTS of hill repeats. Tapered for it, although this was so hard for me. Was fanatical about my diet weeks prior to it. Lost a few pounds. What I did in the weeks prior to the race was for me every bit as important as what I did during the race. I also trained on the course, as much as possible, which is good, because it wasn't well-marked in some places. I acclimated in Manitou Springs for a week and a half before the race too, which put me in a good mood since I love Manitou. And I had a kick-ass crew, all of whom I knew for years. Theresa Daus Weber, Katy Cotton, Don Meyers and Carol Sauceda all gave it everything they had to help me. Theresa actually had me make an actual race plan, with splits and everything. I had no idea what I was doing.
During the race I took my secret combination of fat supplements and enzymes to keep my stomach soothed, and took in those Organic Food bars Scott Jurek eats. I drank my "secret" drink, and kept my electrolytes in balance, and never got sleepy, thanks to LOTS of metha..., I mean caffeine. I took in absolutely NO pain killers, and had no stomach issues, and took in solid food throughout the race when I wanted to. I also left my music behind, which was good, because I never would have heard some good-looking guy calling me that I got off course. Rule #2 of trail running: if you are going to go off the course into the bushes, make sure you do it with a good looking guy, (or woman if you are a guy). I also had chunky peanut butter instead of smooth. This made all the difference.
Wrong = I suck at downhill running. Even though running down Hope Pass crewing at Leadville this year went well, I struggled on the poorly groomed trails of Wasatch. But they don't call it "100 miles of Heaven and Hell" for nothing. Calculator = Other Stuff = They have really nice finishers plaques with your time ready at the finish for you, with your belt buckle. The post race party is a lot of fun, and it's fun to watch everyone hobble around and take ten minutes to get their award.
***
Lindsay Cavner Reports:
Race = Mazatzals Trail Run
Location = Mazatzals Trail, Outside of Payson, AZ
Date = Oct 9,2005
Distance = 18 miles
Goal = Finish strong, use as a training run for spring marathon prep
Results = Finished....4th woman (out of 5!)
General = This race is a good example of the difference between my husband's definition and my definition of a hill versus a mountain.....He called it a hill that climbed 3500 feet, I call it a small mountain that climbed up for a very long 9.5 miles. All in all great loop trail race, that climbs for the first 9.5 miles on 4wd road through beautiful desert into high desert. One aid station at mile 10, then descends through pricker infested single track mixed with ankle twisting river rock covered dried-up stream running (2.5 miles!) and finished on 4wd road (1.5 miles).
Right = Took it slow on the ankle twisting river rock. Hydrated well...and just kept running.
Wrong = Listened to my other half's course description when prepping for the race....our ideas of a hill differ slightly. Didn't ramp up in mileage enough (for my knees benefit) before attempting 18. Didn't train for downhill portions well.
Other Stuff = Fun and beautiful course; always keeps you wondering what's coming next and when it is going to end.....Highly recommend it.
***********************************************
WEBSITES:
***********************************************
Training for the Ascent and Marathon on Pikes Peak
http://www.skyrunner.com/guide/
Barr Trail Mountain Race
http://www.runpikespeak.com
presented by Pikes Peak National Bank
Incline Club
http://www.inclineclub.com
***********************************************
ACCOUNT SETTINGS:
***********************************************
To change your e-mail address or unsubscribe from the Incline Club
newsletter go here:
http://www.inclineclub.com/membership.asp
---