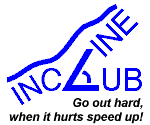 2005 Incline Club V9 LR #1
---
Incline Club V9 LR #1
Sent: Friday, November 26, 2004 1:59 PM
Subject: Incline Club V9 LR #1 Hi ICers,
This newsletter is the first newsletter of the 2005 Incline Club season - our 9th! As is tradition, the "*" boards have been wiped clean meaning everyone starts out the season as a virtual ICer!
I hope you had a great Thanksgiving! There is a lot to be thankful for starting with the great location in which we live with its easy access to so many trails and such great running in general. I thought about this the other day as I was running through the Garden of the Gods — people from all over the world come here to visit where we get to live everyday:-)
I hope to see you Sunday so we can work off some Thanksgiving food (and leftovers:-)
##
Stats from the 2004 IC season:
39 Sunday Runs
21 Thursday Runs (counting the IC party)
60 club workouts and events
332 Sunday runners
172 Thursday runners
374 different runners
3,562 *'s
113 B's and V's at the Barr Trail Mountain Race
113 R's for different Races
95 P's at the year end party
80 A's and V's at the Pikes Peak Ascent
42 G's, V's at the Garden of the Gods 10 Mile run
34 M's at the Pikes Peak Marathon
28 S's and V's at the Summer Roundup Trail Run 12K
20 L's who did Leadville
19 F's who came to just the vanFeed
13 p's who paced at an Ultra
6 D's who did the PPA/M double
4,125 total or 68.75 people per workout or 11.0 workouts per person
Records set in 2004:
People at a club party: 95 (tie)
People on a Sunday run: 120
People at the club VanFeed: 121
People on the e-mail list: 565
###
As is the case every off season we get a lot of newbies sign up for the club and we get a lot of the same questions. Here is the standard answers to the most common:
Q) I am not quite up to running the whole loop, can I go part of the way?
A) YES! In fact a lot of people start out by running 30 minutes out and then turning around. If you are an IC newbie or if your off season was more "off" than "season" it is better to be safe than hurt! On the other hand, every year I bump into more and more people in October and November who are "training to get ready to train with the IC." Those who took a short break after the last season and then starting building up to get ready for the new season should be set to go the whole distance.
Q) I am slow, can I join the IC and will I be left behind?
A) Anyone can run with the IC. Also a lot of people have to do quite a bit of walking on the steeper stuff. However, the only way to find out where you will be in the group is to run with the group. One thing that is pretty much a given is that it is better to suffer now than later! The group gets stronger a lot faster than the individual and the people who come into to the club months down road often get a shock because the runs only get longer and harder.
Q) You have Memorial Park listed but say we are running in Manitou Springs, how do we get from there to there?
A) We meet at the Memorial Park in Manitou Springs not the more popular one in Colorado Springs. This is the park next to the city hall and police and fire stations or the 600 block of Manitou Avenue. Of course most of us know this place as the same location that the Pikes Peak Ascent and Marathon start:-)
Q) You say we are running Waldo Canyon but we are meeting in Manitou Springs so how do we get to Waldo?
A) We RUN:-) There is a connecting trail that you can learn about on the maps page of the club site or on Sunday when you come out to run with us.
###############################################
NEXT RUNs:
###############################################
Sunday, Nov 28, 8:00am — Memorial Park — Start our 9th Season!!!
Run out the UPT and take a right and head over to do the Waldo Canyon loop in the clockwise direction. Return via UPT. 2-3 hours, if it would be longer do out/back or Bail Trail. — See maps!
Sunday, Dec 5, 8:00am — Memorial Park
Head out the Ute Pass Trail until it intersects Longs Ranch Road. Take TWO lefts and head UP Longs Ranch Road. Try to smile when you hit Poppa Bear Hill;-) Connect back into the Barr Trail at No Name Creek and run back down to Memorial Park. Take the J Pipe trail before the top of LRR for a shorter run. Add Bob's Road on the way to No Name for a longer run. — See maps!
###############################################
ICers WRITE:
###############################################
Jason Jungbauer writes:
Could you run this in the newsletter when you start to send them out again.
I would greatly appreciate it.
If anyone is interested I have a Black Diamond Bod climbing harness (size
L) I would like to sell. It is brand new, still has all the tags on it but
unfortunately when I bought it I grabbed the wrong size and Galayn's will
not take it back. I paid $50.00 for it but would take $40.00 if anyone
wants it.
(My suggestion is to shop at REI because although they will not resell it,
they will take climbing gear back. And while I was at Galayn's someone
tried to return a pair of trail running shoes which Galayn's would not
take back either.)
Contact Jason via his IC Page:
http://www.inclineclub.com/show.asp?name=Jason%20Jungbauer
####
Adam Feerst writes:
Please post the following in the first IC message:
For those of you in the Denver area, the DenverTrailRunners runs on trails, Thursday evenings, all year long. The group is FREE. We meet at various locations, mostly in the Golden/Morrison area. There is also a Tue morning trail run. On Saturday mornings, we join the free Evergreen Runners Circle group for trail runs in Evergreen. You can also use the group to find carpools to IC runs, snowshoe and other races. Please go to http://sports.groups.yahoo.com/group/DenverTrailRunners/
####
Dawn Hunsaker writes:
Thought you might be interested in this link. . .
http://earthobservatory.nasa.gov/Newsroom/NewImages/images.php3?img_id=16678
###############################################
R REPORTS:
###############################################
I have quite a bit of catching up to do here (the rest of the PPA/M/D and Leadville reports) and it will get done!!! However, I make no promises as to the timeframe as the move to our new home is all consuming. In the meantime, here are some off season race reports.
"Wild" Bill Ransom reports:
Race = Javelina Jundred
Date = October 31, 2004
Distance = 100 miles
Unlike Keith's overly verbose, and frankly, boring race report, my report is
short and sweet. Also, unlike Keith's lengthy and obviously unattainable
goals, I had only one goal: finish under 30 hours.
This was my first completed 100 and my third 100 entry. Two days prior to
the 2003 Leadville I fell off a ladder. At the 2004 Leadville I stepped in
some rocks before the Tabor Boat Landing and had to quit at the Winfield 50
due to a badly bruised shin. So for the Javelina, I just wanted to break
the string of bad luck.
While at the packet pick-up and pre-race brief I bumped into Rick Hesseck
and introduced him to my friend, Dan Schmidt. When Rick told us that he
would be pacing Keith, Dan and I looked at each other puzzled faces. We
each asked ourselves, "Huh? What in the hell do you need a pacer for?
Fifteen mile loops with aid every five miles." Well, during my 5th loop, my
question was answered. In Keith's report he said I was "basically
incoherent and staggering." The truth is I was stunned at what I saw...
Rick was carrying Keith on his back!! I didn't know that this was part of
"pacing" rules, since I was a 100 virgin. I figured that while I may not be
the fastest out there, at least I was a man who didn't need no stinkin'
"pacer" and certainly didn't need some little skinny guy to carry me. After
seeing Keith's cowardly demonstration of sportsmanship, I kept up my slow
pace towards a legitimate and unaided finish.
Part of the reason Keith thought I was "incoherent and staggering" was
because both of the nails on my big toes were ripped off. There's a two
mile stretch that has thousands (no, make that millions) of damn rocks
sticking out of the dirt and an equal number of round ones on top of the
dirt. It seemed that no matter how careful I was, I'd end up kicking a few
of those rocks during every loop. The ones that you didn't kick, you'd roll
over. Throughout the night, the silence would be broken by someone
screaming, "God Damn Rocks!!!"
Oh well, despite the rocks and Keith's bad sportsmanship, I had a good time.
And my buddy Dan kicked Keith's ass, coming in at third place. Dan
commented that Keith might have done better if he'd drop 20 pounds or so...
:-)
####
Anita "Princess" Fromm reportsL
Race = Javelina Jundred
Location = somewhere in AZ
Date = Halloween
Distance = 100 miles
Goal = sub-25 hours
Results = missed that by a hair
General = JJ is a loop course on the Pemberton Trail outside of Phoenix AZ. A relatively easy, rolling course.
Right = The week before the big JJ, I was feeling pretty good. I had run two 9 1/2 hour 50 milers in the months prior, which for me is moving right along. So I thought, OK, my hundred mile pace will be two and a half times that, so I thought I would come in around 24-25 hours. I have the diet and hydration thing down, and actually found a pacer that was willing to put up with me for two whole loops.
Wrong = Three days before the race, I ran up a big hill to watch the eclipse. I thought nothing of it, until I went for a leisurely run Thursday morning. It was then I discovered I could barely move my left leg. My IT band had decided to flare up again, for the first time since my 2002 Badwater. But I decided that I would at least run enough of the course to ward off any extra pounds I might potentially put on by not running the race. Thus I ended up dragging my leg for 100 miles, setting a PW of 29 hours and 22 minutes, or some other glacial time like that.
Other Stuff = It is rumored that last year I offered oral gratification for coffee at the aid stations last year. Well, when I kindly ask, "whose *#!! do I have to suck to get a cup of coffee around here?" it really does help get results. Turns out ALL the aid stations had coffee this year, and if I was extra nice, some of the male volunteers would offer me my favorite French Vanilla creamer. Of course that meant spending a few extra minutes at the aid stations, which also accounts for my slower time. Extra caffeinated Jolt gum helped me between aid stations. Also, a big thanks to "Carol Mom" for her patience. It was a tough race for me, both physically and mentally and she did a great job. Next year I hope to run Wasatch 100, so hopefully learning to push through the pain will serve me well in Utah.
####
Gordon Barnett reports:
Race = Mt. Masochist 50+ Miles
Location = Lynchburg VA
Date = October 16 2004
Distance = 50+ Miles
Goal = Finish under the 12 Hour Cutoff
Results = 10:15:03
Website = http://www.extremeultrarunning.com/mmtr.htm
General = Ted B and I arrived in Lynchburg about 4:00PM. After checking in, we went out for an easy 10 minute run for some leg turn-over after sitting in the car most of the day. Then it was off to the pre-race briefing at the Heritage High School cafeteria at 6:00PM. Impressive dinner with an assortment of pasta including several vegetarian courses! I must say I was blown away being in the same auditorium as the likes of Dave Mackey, Brandon and Krissy Sybrowsky, Nikki Kimball, Anthea Schmid, David Horton and our own Paul DeWitt, Rick Hessek and Ted Bidwell. The evening was pretty laid back, although the reading of the rules seemed to go on and on...
We headed back to the hotel for a few hours (hopefully) of sleep before heading back to the school to meet the buses for a 5:00AM departure. A reoccurring dream I always have the night before a race is oversleeping and missing the start. It appears that I'm not alone in this fear, Ted and I set the radio alarm, my watch alarm, and called for a 4:00 AM wake call — just to be sure. After laying out everything we needed for the morning — we were set.
I was surprised to actually get some sleep, and woke up feeling rather relaxed. Both of us were awake and up before the battery of alarms sounded. A quick glance out our window showed a strong wind blowing. A final check of gear and drop bags we headed downstairs to the car. We saw Rick pacing the hallway, opening the lobby door to check conditions. A quick word, then off we went. As we traveled the route to the high school the day before, and with no traffic we made it well ahead of the 5:00 departure time. Onto 'lucky' bus #3 and the 30 mile drive to the start. Ted and I sat quietly, trying to relax to conserve energy. The guys sitting behind us had different ideas and loudly "entertained" the bus. Reminiscent of the buses for the Boston Marathon to Hopkinton and the start, we were traveling to the start of Mt. Masochist and the James River Visitor's Center.
We arrived at the start area in the dark, left our drop bags on the bus and headed out in to the cool morning air. After the National Anthem, sung well by Annette — who was also running the race, we made our way onto the road to await the 6:30 start. As I made my way to the start line, I stumbled into a trailer hitch on the back of a van — stupid — but no real harm done.
THE RACE
David Horton started the count down and "GO" we were off. I didn't have a light source with me, but one really wasn't necessary as many runners did, and we were on fairly even and flat asphalt service.
The first couple of miles, a turn-around, as the leaders ran back towards the rest of the pack, I saw Paul in the second lead group. I wanted to start slow and find a comfortable pace I felt I could sustain for 50 miles... whatever that meant. My only point of reference was marathon distances, and a couple 25 — 30 mile training runs. Pikes Peak had me on my feet for 5 and 6 hours, but what could I expect after being on my feet for twice that time? Some of the best advice I have received is to "run smart," and this is exactly what I planned to do. Coming into my first ultra, I had no finishing time expectation — other than to come in under the 12:00 cutoff.
At just over 6 miles of rolling blacktop, with the sunrise, we turned onto single track trail (man that felt good) and started a steady climb. Some other worthy advice was to walk the hills early on, but feeling the benefits of lower altitude and added oxygen, I found a steady cadence and stuck with it. I found that this worked well on the hills for the remainder of the race. As the pack thinned out, I found myself running with a local man and woman that I would have the honor of running with for the majority of the day. I was given the nickname "bunnyman" by this duo, as I kept "going and going" on the up hills.
A huge difference that became apparent early on was, unlike marathons where you pass markers at mile intervals, the only indication of distance was the mileage written on the signs coming into the aid stations. But as I was concentrating more on where I was in relation to the 12:00 pace — I often didn't see the mileage at any given station. My goal was to miss that cut off. With each station passed I saw my pace improve — moving away from that 12:00 cutoff.
I had a drop bag at the 1/2 way point — or the mile 27 aid station. It wasn't until I entered the aid station coming into "Horton's Loop," and one of the volunteers said, "you're at 32 miles and looking strong," that I knew where I was. I looked at him and said, %#@& — you're kidding! My first thought was panic, knowing I ran past my drop bag with dry clothes, shoes, and Boost. Any fear soon evaporated as I realized this is the longest sustained distance that I had run. I never felt that I was in trouble or difficulty at any time. Some early signs of quad spasms were obliterated with sodium tablets and rock salt.
Coming into the 'loop' I thought to myself, I can handle 5 1/2 miles of this, as the footing was on a soft moss. This was not to last. Ideal footing soon made way to holes and roots covered with leaves and sharp pointed rocks — then it got steep. A sick version of Barr's 16 Golden Stairs! The descent on the other side was treacherous, but didn't last long. Soon enough we were at the aid station and out of the 'loop'.
The course had 10,000' of vertical climb and 7,000' of downhill — much more technical than I had imagined. There were multiple creek crossings, jeep trails, single track, a water tunnel, roots, rocks, fallen trees, slippery leaves in beautiful autumn colors. we had wind, rain, sleet, snow, hail, and sunshine. I had the best food I've ever eaten, boiled red potatoes rolled in salt, washed down with Top Rammen noodles and Conquest.
One of challenges we found out about the race is any mileage or distance posted on the well-marked course is NOT accurate. We were told at the pre-race dinner, the ONLY accurate sign was the "1 MILE TO GO," and that the overall distance was closer to 54 than 50 — CRAP! At the last AID station, I asked how far to the finish and was told "2.7 miles." Simple math (all that I could tabulate) told me I should see the 1 TO GO in a little over 1.5M. After the longest mile and a half I have ever run (I later found out that the same aid station were telling runners anywhere from 2 to 3.9M — after all this is called the Masochist!) I saw the 1 TO GO... and almost cried. I picked up my pace out on the road as the finish area and Montebello came into view. I crossed the finish line feeling strong in 10:15:03. I ran the race I wanted to... as was thrilled but couldn't help thinking as I shook David Horton's hand, "bet I could break 10:00:00." Ted was waiting with a big smi le, high-5, and a cold beer! I couldn't wipe the smile off my face. It didn't really sink in until we were sitting in the yellow school bus on the way back to the high school for the awards banquet, I looked out the window as the sun was beginning to set, I thought, "...where did the day go?"
POST RACE
The dinner this evening wasn't nearly as good as the pre-race meal. Due to a mix-up there wasn't nearly enough food to go around. Most folks left after picking up their finisher shirts. Our table stayed to cheer Paul DeWitt as he accepted his 2nd place Ultra Cup awards, and a bunch of us at the table won some really decent door prizes. Then it was back to the hotel where we toasted our achievement with our wine and beer.
Congratulations Paul, Rick and Ted! Thanks goes out to these guys (and my IC pals) for all your help, support, and friendship. You helped make a dream come true.
The Mount Masochist 50 Mile Trail Run is well organized, with incredible volunteers and well stocked, numerous aid stations. The course is challenging, with several technical areas, but very well marked. The autumn season in Virginia is glorious, flooded in reds, oranges, and yellows. Although we heard it was unseasonably chilly, the weather suited running 50 miles perfectly.
Right = — Ran smart
- Refueled and hydrated at every aid station
- Ran the hills
- Carried a hand-held bottle that I refilled when necessary
- Used rock salt and salt tablets
- Finished strong at the finish, injury free
Wrong = As it turned out it wasn't a problem, but I ran through the bag drop at the 1/2 way point. Didn't realize until mile 32, but by that point what the hell... didn't need it!
Other Stuff = More technical than I'd imagined, with 10,000' vertical climb and 7,000' descent. Great challenging course, I highly recommend this one if you're looking for a well organized 50(+)M.
####
Anita Bower Fromm reports:
Race = Le Grizz 50
Location = Hungry Horse Montana
Date = Oct 9th, 2004
Distance = 50 miles
Goal = break 10 hours qualify for Western States
Results = 9: 31:09
Website = http://cheetahherders.com
General = Le Grizz 50 goes by Hungry Horse Damn and reservoir for 50 miles, on primarily dirt roads, but there is about 13 miles of pavement at the end. Course is rolling.
Right = Had my parents crew for me the whole time.(most of the 50+ runners had crews) The aid stations were few and far between this year, the first one being at 17 miles. Not much there either. This was to be my last big run before Javelina Jundred in late October.
Wrong = Living in the Moajve Desert for over two years now, I have become unaccustomed to cold damp weather. In Montana in October, that's exactly how it can be. It rained lightly for 25 miles, which was great, since it hadn't rained out here since last Christmas. But my hamstrings go tight, as did my lower back, which affected my posture. I was on track for a sub 9 hour 50 until it started to rain and everything tightened up.
Other Stuff = Good first time 50, if you have a crew. They don't even allow drop bags until 17 miles, due to grizzly bears in the area, so you have to be prepared. Nice finishers awards at the end.
####
Anita Bower Fromm reports:
Race = Canandaigua 50 mile
Location = Canagaigua New York
Date = September 18th, 2004
Distance = 50 miles
Goal = break 10 hours
Results = 9:26:30
Website = http://canandaiguaultra.org
General = 50 miles around one of New York's finger lakes in the wine country. Rolling, all on pavement, due to changes because of flooding.
Right = Kept my calories up to about 300 an hour. Only peed twice, so didn't waste lots of time like I usually do on ultras. Found that moving faster actually hurts my feet less than moving slow. Stuck to familiar ultra-fare: Hammer gel, Cytomax, Endurolytes, peanuts.
Wrong = Felt great the next day and went for a run in the morning, which tells me I could have gone out faster.
Other Stuff =
####
Jonathan Veteto reports:
Race = Imogene pass run
Goal = 3:10
Results = 3:10
General = A great race. I find it hard on the legs, but oh so very beautiful. I went to the race just hoping to have a good time. I twisted my ankle badly this year, got violently ill the week before the ascent, and am getting married in a few weeks, so I didn't feel too well prepared. however, I ran three minutes faster than last year and felt terrific after the race. the marmots must have been smiling on me Saturday :)
Right = Just about everything. Slept outside the night before, got to the start with 2.5 minutes to spare, and started with a smile. I didn't get sucked out at the start, and really never felt bad the entire race. I felt good enough to run the last mile into Telluride at a pretty fair clip, passing everyone I saw. easily felt I could have bettered my time by probably 5 or 10 minutes. It was a great day.
Wrong = Had to be stuffed back into the car afterwards to drive back to Manitou. My brother's girlfriend didn't want to stay. Riding in a car after the race was not what I wanted to do.....Larry and Ted know what should have been going on -> beer drinking.
Other Stuff = Weather couldn't have been nicer — better than last year. Never needed the jacket they require you to take, nor the gloves. I always cheat on the hat and wear a visor. (They don't specify what KIND of hat you have to take... :)
####
Gary Hellenga reports:
Race = John Colter Run
Location = Missouri Headwaters State Park, Montana
Date = 9/11/2004
Distance = 7+ miles
Goal = Finish in top half of the pack
Results = Finished in top 20%
General = Enjoyable race in nice weather, with lots of our local running friends in attendance. Good post-race refreshments (first time in a while that beer has actually tasted really good after a race!).
Right = Ran conservatively at the start, and passed a number of runners over the last 5 miles.
Wrong = My energy level has been pretty flat or poor at a number of events this summer — may need to experiment with some new pre-race meal strategies to see if I can change this.
Other Stuff = This is a small race (entry limit of 300), with a pretty fanatical local following. This year's was the 25th running. The course follows the Missouri River for a short ways, climbs to the top of a steep hill, then meanders across bluffs, ridges, draws, and open hillsides, ending with a waist-deep slosh through the Gallatin River just before the finish.
####
Andy Cullan reports:
Race = Breckenridge Crest Marathon
Location = Breckenridge, CO
Date = 9/5/04
Distance = 24.5+
Goal = 5.5 hrs
Results = 2:42:49
Website = http://www.boec.org/marathon/index.cfm
General = Snow, blowing snow, slush, rain. Beautiful course — it runs the outside of the ski area. Nice elevation gain with not to terribly steep hills. Called it good at the 10 Mile (half-marathon) point because of poor weather conditions and a persistently sore knee.
Right = 1 — good hydration and caloric intake prior to the race
Wrong = 1 — No where near enough clothing. Shorts, light coat, hat and gloves not enough.
Other Stuff = Fun course — planning on running the full marathon next year. Small, well run race with lots of friendly people to run with.
###############################################
WWW POSTS:
###############################################
8/26/2004 Thur: The club party record was tied when 95 came out to celebrate the season! Max Armstrong, who works at the North Pole as a magician, preformed a magic show for us. Club awards were handed out to the 22 people that made 45 or more of the 60 workouts including; Brenda Cowell — 60, Bryan Willis — 60, Joe Cowell — 60, Kyla Carpenter — 60, Matt Carpenter — 60, Yvonne Carpenter — 59, John O'Donnell — 58, Darrell Weaver — 55, Gordon Barnett — 54, Pattie Danner — 54, Harry Harcrow — 53, Gina Harcrow — 52, Larry Miller — 52, Chaz Lalonde — 50, Vicki Martin — 48, Stephen Mitchell — 47, Beverly Weaver — 46, Fred Wright — 46, Stephen Martin — 46, Valerie Prothe — 46, Andy Kovats — 45, Ted Bidwell — 45. In addition, Glen Ash and Jackie Burhans got awards for having perfect Sunday Streaks. Gina Harcrow won the driven award. Of course, no party would be complete without food and we ate 20 large pi zzas. After the pizza was gone Brenda Willis did her final weigh-in at 235 meaning she lost of total of 72.5 lbs. The Incline Club is now in off season mode — we start back up on November 28th.
8/21-21/2004 Sat/Sun: 149 ICers took part in the Pikes Peak Ascent, Marathon or the Leadville Trail 100.
###############################################
ACCOUNT SETTINGS:
###############################################
To change your e-mail address or unsubscribe from the Incline Club newsletter go here:
http://www.inclineclub.com/membership.asp
####
Go out hard, when it hurts speed up...
Matt Carpenter
http://www.skyrunner.com
Incline Club
http://www.inclinclub.com
Barr Trail Mountain Race
http://www.runpikespeak.com
presented by Pikes Peak National Bank
Friends of the Peak
http://www.fotp.com
---