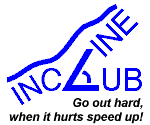 2004 Incline Club V8 LR #17
---
Incline Club V8 LR #17
Sent: Friday, March 19, 2004 3:36 PM
Subject: Incline Club V8 LR #17
Hey ICers,
Its vernal equinox time — springtime that is! Lets celebrate by changing the scheduled run. This Sunday we will run to Barr Camp and back. As of Wednesday there were just a few small patches of packed snow all they way to No Name Creek. Starting with the switchbacks after No Name there is still quite a bit of snow but it is well traveled and nothing the Incline Club can't handle! I am sure it will be better than what he have been encountering on Section 16. Remember to bring a buck (or two) if you want to use getting a candy bar (or two) at Barr Camp as incentive:-)
##
Once in a while you hear about something that really makes you feel good. I believe this story will end that way! A week or so ago ICer Bryan Willis's wife, Brenda, stopped by the house to pitch the Arc to me. The Arc is the national organization of and for people with mental retardation and related developmental disabilities and their families. She wanted to know if she could write up something about it for the IC newsletter.
Well as neat as that is I told Brenda that I really shouldn't use the newsletter in that way (although I guess I just did — but stay with me) because I am sure everyone would love to pitch their causes and businesses to a 550 member distribution list. In other words, I have tried to keep the newsletters relatively "spam free" with the exception of "for sale" items. I told Brenda the only way we could do it would be something along the lines of what Connilee Walter did a few years ago (see http://www.inclineclub.com/newsletter/2001/lr19.htm) where she ran Boston to raise funds for something she believed in.
Brenda and I discussed some things and we came up with a HUGE idea — literally! You see, Brenda will be the first to admit that she is huge — 308.5lbs huge to be exact. You can see her getting ready to dispose of ICer Andy Dimmen after he threw water on her at the annual IC party here: http://www.inclineclub.com/pics/brendahug.jpg.
#
Brenda writes:
Losing weight has been an issue for me my entire life, but now that I have an avid Incline Club husband who loves the Pikes Peak Ascent and who has lost 50lbs himself since he started running, I have decided to lose some much unneeded pounds.
The job that I love has me caring for people with mild to severe disabilities but I don't take care of me — I'm last on the list. You know the story; wife, mom, caregiver... Somewhere along the line I forgot about me! It was my dear friend Teddi Roberts, who is the executive Director of Arc, who reminded me "I'm special and important too!"
I now have a goal to take care of myself, lose weight, get fit and still be able to benefit people with disabilities. I have decided to loose weight as a fundraiser by getting pledges for every pound I lose. I'm so excited and feel strongly I will succeed.
In 2002 I won a race at the Incline Club annual party by carrying my husband across the finish line in the "carry your spouse challenge." At the 2004 Incline Party I want to win my race against obesity. The support I have is overwhelming and touching. The money I raise will go to Arc — http://www.thearc.org — and I will, in return, be losing my unneeded pounds!
#
This Sunday, March 21st, Brenda will be joining the Incline Club along with her husband Bryan. After an official weigh-in she will start an exercise program of walking while the rest of us are off running. She will have a pledge sheet to take pledges. The goal is to loose 100lbs by the Incline Club party on August 26, 2004. This works out to about 20 lbs a month. She has gone to her doctor and received the OK for this plan as being safe. However it is going to be hard and she is going to need a lot of support. That is one of the reasons she is going to do this in such a public manner and as a fundraiser - to give her both accountability and motivation. Brenda wants to be healthy again and I for one think there are few things in life as important as our health so I am going to give Brenda all the support I can starting with posting this to the club newsletter.
If you don't come to the club runs but would like to pledge an amount per pound in support of Brenda just send me and e-mail. Remember the goal is 100lbs by August 26, 2004. All money goes to Arc - again see http://www.thearc.org.
See you, and Brenda, on Sunday.
###############################################
NEXT RUN:
###############################################
Sunday, Mar. 21, 8:00am — Memorial Park
1) Brenda Willis official weigh-in!
2) Run to Barr Camp and back via the Barr Trail. Enough said:-)
###############################################
ICers WRITE:
###############################################
Nicki Rosa writes in response to Bob Jones mountain lion post:
> You are most likely very safe
> while running. Even safer running with a group. Optimally a group of
> SLOWER runners. And actuarially bullet-proof with a group of slower
> runners wearing bunny-ear caps and Velcro cotton-tails available from
> Catbait.com.
Bob, will you dress up in a little bunny outfit and run with me?
###############################################
R REPORTS:
###############################################
Harry Harcrow reports:
Race = Crown King Scramble
Location = Phoenix, Arizona
Date = 3/13/2004
Distance = 50 K
Goal = 5:30
Results = 5:27:54
Website = http://www.arizonaroadracers.com/crown_king.htm
General = This is a fantastic race starting near Lake Pleasant, AZ and ending in a very small town of Crown King. The race starts out at around 1500 ft and reaches an altitude of 6500 before dropping into Crown King. About 150 people entered the 50k; there is a 50 mile race as well. It started at 7:00 am and was perfect running weather. It had rained that morning, but cleared up in time for the race and the temperature never got very warm.
Right = I have had problems with keeping myself properly hydrated in the past, so I worked hard on that. I drank a complete water bottle between each aid station and that helped immensely. I trained hard and the incline club training was huge. Besides that I tried to keep a slightly slower pace than I am use to.
Wrong = This race went very well for me, but my legs did get tired around mile 27 and I was forced to walk some. The one thing that I should have done better is to drink more water the days leading up to the race.
Other Stuff = The course starts out on a paved road and after a few miles becomes a dirt road. Eventually the road turns into a 4-wheel drive road and gets steep at times. The course is somewhat rolling, but is basically uphill for 28.5 miles with the last 2.5 miles downhill. Because of the rain before the race there was quite a bit of mud on the flatter sections. The mud was frustrating, but I figured it was the same for all of us so do the best that you can do. The aid stations were great! They were about every 7-8 miles and volunteers would run up to you and take your water bottle and fill it up for you.
####
Jonathan Cavner reports:
Race = Crown King 50K
Location = Phoenix AZ
Date = 3/13/04
Distance = 50K
Goal = 4:25
Results = 5:08
Website = http://www.arizonaroadracers.com/crown_king.htm
General = The Crown King 50K climbs from 1500 elevation to 6570 elevation and down into the old mining town of Crown King (6000 elevation). The course is rolling during this time, so it is actually much more elevation gain then just 5000 ft. The Crown King has a 50 mile contingent as well. They started at 3am! We arrived around 6:40am for the 7am start of the Crown King. There had been heavy rains the night before and rumors of mud on the course. When the gun went off Sean Andrish quickly ran to the front. I had convinced myself that I was just as fast as Sean, but that was very quickly being proved false. Someone else joined him at the front. I held back and tried to pace myself. However, I wanted to be in a position if either one of them faltered that I could take advantage. Unfortunately this goal caused me to go out to hard. A couple miles in we encountered the mud. The mud lasted off and on for 20 miles. Due to the 50 mile folks and the aid station vehicles the course was completely destroyed and was in essence a "sea of mud" with the worst footing I have ever encountered. Yes, this would even be worse than the footing at the 2001 Collegiate Peaks race and much worse than the 2002 Teva Mountain Games. I was barely able to keep the pace above a shuffle during the navigation of the mud. We proceeded to pass the 50 mile folks almost immediately as we had merged onto their course about a mile into the race. Somewhere between the 15 miles and 19 miles I passed the 2nd place guy. I had no knowledge of this because he was running slow from the effort of trying to keep up with Sean. I thought he was a 50 mile guy. I started to feel a little tired around 23 miles and slowed down somewhat because of the effort of the mud and going out too fast. I didn't think there was any 50Kers around me and was a little discouraged because of my time. I finally got to the top of the course at around 29 miles and headed down. At around mile 30 James Bonnett cruised by like I was standing still. I had nothing left to g ive on the downhill, so I didn't even bother keeping up. He ended up putting 2 minutes on me in that time!
Right = Good training, decent taper, good hydration
Wrong = Everything else. Went out too hard. Wasn't prepared for the mud. Slowed down at the end when I should have been pushing.
Other Stuff = Great course when it's not muddy. I'll be back next year. No finisher metals in the 50K. You would need to run the 50 mile to get one of those. Only overall winner and master awards. You get an award if you win a 10 year age group. Great aid stations and a meal at the end.
####
Gina Harcrow reports:
Race = Crown King Scramble 50M/50k
Location = Phoenix Arizona
Date = March 13th
Distance = 50k
Goal = Make sure I can do the distance (Hoping for 6 hours)
Results = 6:27
Website = http://www.arizonaroadracers.com/crown_king.htm
General = This was my first ultra, so I went out really slow because I was worried about hitting a wall later. Turns out, I was way too conservative. Not only did I feel strong all the way to the end, but I was hardly even sore the next day. So, that was good and bad. I was pleased that I had a good, solid run for my first ultra, but disappointed in my overall time. This is a beautiful course with awesome aid stations. They run out to meet you and fill your water bottle up so when you get to the station your ready to go. At the aid stations they had tons of food, you could stop and have a picnic if you wanted. This year was an anomaly, in that it had rained in Phoenix for the past few weeks, including the night before. The first 15 miles were very muddy (you know, the thick red mud that sucks off your shoes and adds two pounds to each shoe?). It was good to start climbing to higher ground after 15 miles to get out of the mud.
Right = I trained hard for about 8 weeks leading up to the race, including running with the Incline Club. I did several long runs. I ate light the day before. I drank alot of water, took 4 electrolyte pills, and ate and drank Gatorade at every aid station. I went out slow so as not to hit the wall.
Wrong = I went out too slow while it was still flat enough to make good time. By the time I made it to 20 miles and realized I was still feeling pretty good, I couldn't make up all the time I had given up in the race.
Other Stuff = The 50K course starts near Lake Pleasant, AZ and initially runs on well maintained dirt roads over rolling hills, climbing steadily from 1500 feet. At 15 miles, the course enters the Prescott National Forest onto the rugged, poorly maintained forest service roads. The rate of climb increases dramatically from this point. Between aid station three (23 miles) and mile 29, the road climbs approximately 2400 feet to 6570 feet. The final two miles drops some 700 feet to the finish. The overall elevation gain is approximately 5000 ft.
####
Mike Shafai reports:
Race: Catalina Island Marathon
Location: Catalina Island, California
Date: 3/13/2004
Goal: Finish in under 3:45
Results: 3:44:03, 3rd place in my age group (which says more about my lazy
age group than anything!)
Website: www.pacificsportsllc.com
General = This was my fourth consecutive year running this race and so far,
was my best time. I suppose knowing the course certainly helped. If you
ever have the opportunity to get out there, I highly recommend it. It
course offers beautiful ocean views, herds of "wild" buffalo, and provides a
vision of what California used to look like before becoming overrun with
millions of people (the island is managed by the Nature Conservancy, so most
of it is still undeveloped).
Right = The Sunday IC runs in the snow and at altitude really helped to
prepare me for this race. Since the course is 95% trail (without snow &
ice) and at sea level, I felt it was much easier than some of our Sunday
outings ('running' up Longs Ranch Road in a foot of snow comes to mind).
Wrong = The double cheese burger I ate an hour after the race (bad idea!)
Other Stuff = After the double cheese burger, I went back to the house to
take a nap without even checking the overall results. One of my friends,
who also ran the race, went back down to the finish line while the race
director was handing out awards. While walking through the crowd, he heard
my name being called. Knowing I was sleeping at the time, he pretended to
be me and went up on stage to pick up the medal. Everyone was
congratulating him and he got his picture taken. I'm sorry I missed my 15
seconds, but that nap was priceless!
####
Curt Krieger reports:
Race = O'Round the Loch Run
Location = Emmetsburg, Iowa
Date = March 13, 2004
Distance = 10K also a 5K and 1/2 marathon available
Goal = race the 1/2 marathon as an early season tempo run
Results = ran the 10K due to injury
Website = http://www.iowalakes.edu/smithwellnesscenter/events/loch_run_registration.htm
General = Long standing annual (24th) event associated with St. Patrick's Day. It's a typical "town race" with many activities during the day following the race. Parade, food, green beer and good fun.
Right = Took a low-key approach to an early season race. Downgraded my participation from the 1/2 marathon to the 10K due to injury to my Achilles tendon. Relaxed during the race to not put extra stress on the Achilles.
Wrong = Ran for nearly 2 hours the Sunday before the race and became quite fatigued. Followed up with a rather fast-paced run on the trails on Monday. My right Achilles became tight and developed some swelling during or after my Tuesday run.
Other Stuff = There are many open stretches in the race. Iowa, at this time of year, is often subject to high winds and very little to slow them down. This day was very strong with wind and gusts, nearly stood people up at times. I was fortunate to only need to fight the wind on the way out to a turn-around. I was able to benefit from a tailwind to the finish.
The folks in the 1/2 marathon were with the wind early then had to fight a crosswind for a couple miles with a four mile stretch in a headwind to finish! Needless to say, times were a bit slow this year.
###############################################
WWW POSTS:
###############################################
3/14/2004 Sun: 69 showed for a day that warmed up fairly quick. The route for today was Waldo/Longs. Some that were a little ice shy headed to greener (dryer) pastures. However the reports came back that the ice was not that bad and a great run was had by most.
###############################################
ACCOUNT SETTINGS:
###############################################
To change your e-mail address or unsubscribe from the Incline Club newsletter go here:
http://www.inclineclub.com/membership.asp
####
Go out hard, when it hurts speed up...
Matt Carpenter
http://www.skyrunner.com
Incline Club
http://www.inclinclub.com
Barr Trail Mountain Race
http://www.runpikespeak.com
presented by Pikes Peak National Bank
Friends of the Peak
http://www.fotp.com
---