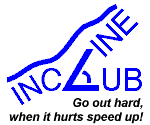 2004 Incline Club V8 LR #1
---
Incline Club V8 LR #1
Sent: Friday, November 28, 2003 2:31 PM
Subject: Incline Club V8 LR #1
Howdy ICers,
Its that time again:-) I hope you ate plenty of carbs yesterday for Thanksgiving because Sunday we start our 8th season — I know I am excited!!! The "*" boards have been erased and everybody is now a virtual ICer. I have been getting quite a few questions about the runs which I will now address:
Q) I am not quite up to running the whole loop, can I go part of the way?
A) YES! In fact a lot of people start out by running 30 minutes out and then turning around. If you are an IC newbie or if your off season was more "off" than "season" it is better to be safe than hurt! On the other hand, every year I bump into more and more people in October and November who are "training to get ready to train with the IC." Those who took a short break after the last season and then starting building up to get ready for the new season should be set to go the whole distance.
Q) I am slow, can I join the IC and will I be left behind?
A) Anyone can run with the IC. Also a lot of people have to do quite a bit of walking on the steeper stuff. However, the only way to find out where you will be in the group is to run with the group. One thing that is pretty much a given is that it is better to suffer now than later! The group gets stronger a lot faster than the individual and the people who come into to the club months down road often get a shock because the runs only get longer and harder.
Q) You have Memorial Park listed but say we are running in Manitou Springs, how do we get from there to there?
A) We meet at the Memorial Park in Manitou Springs not the more popular one in Colorado Springs. This is the park next to the city hall and police and fire stations or the 600 block of Manitou Avenue. Of course most of us know this place as the same location that the Pikes Peak Ascent and Marathon start:-)
Q) You say we are running Waldo Canyon but we are meeting in Manitou Springs so how do we get to Waldo?
A) We RUN:-) There is a connecting trail that you can learn about on the maps page of the club site or on Sunday when you come out to run with us.
###############################################
NEXT RUN:
###############################################
Sunday, Nov. 30, 8:00am — Memorial Park (Manitou Springs)
We will kick off the IC's 8th season with our old standby and friend — Waldo Canyon. Head out the Ute Pass Trail until it intersects Longs Ranch Road. Head down LRR and cross hwy 24. Do the Waldo loop clockwise. Cross back over hwy 24 (BE CAREFUL!!!) and return to the park via the UPT. See maps (http://www.inclineclub.com/maps.htm) for details. 2.5-3.5 hours
###############################################
ICers WRITE:
###############################################
Gary Smedley writes:
Spending October and November in the Black Hills of South Dakota. We have a cabin near Mt Rushmore. Matt--guess that explains why I haven't been helping out on trail maintenance!! There are lots of great running trails in the Hills. I especially like the trail from Sylvan Lake to the top of Harney Peak(7242 ft.), the highest in the Hills.. Only about 4 miles to the top with 2000 ft elevation gain, but very pretty scenery and still a good workout. There is also the Mickelson Trail which runs all the way from Deadwood to Custer. Very pretty, lots of wildlife, and rolling hills through the trees. I'll need some real altitude training when a get home! See you in December.
####
Larry Stites writes:
Please inform me or Heather Stites [My Daughter] if anyone that you know is going to run the Tucson Marathon on December 7th and is interested in sharing a ride either from here or in Tucson. (e-mail address removed for www posting)
####
Adam Feerst writes:
Looking to get your midweek trail fix. Interested in carpooling to the Sunday Incline Club runs?
Visit the DenverTrailRunners (DTR) site
http://groups.yahoo.com/group/denvertrailrunners
We run every Thursday evening, usually in the Morrison/Golden area. The group and runs are FREE.
On Saturdays, many of us do the free Evergreen Runners Circle trail runs,
http://www.geocities.com/Colosseum/Lodge/7018/index.html
Use DTR to find carpool partners to the Sunday Incline Club runs, or to mountain trail/snowshoe races.
###############################################
OFF SEASON NON R REPORTS:
###############################################
Anita "Princess" Fromm reports:
Race = Javelina Jundred
Location = Fountain Hills AZ
Date = Nov. 8 & 9
Distance = 101 miles
Goal = finish
Results = finished
Website = http://ultrazone.us/J100
General = The JJ was supposed to be an easy 100 miler, consisting of 6.5 loops of 15+ miles on the Pemberton Trail. Easy my !**#!. For a 50km or a 50 miler, then it would have been easy, but for 100 milers, it was more of a challenge. The ill prepared were quickly disposed of through out the course.
Right = Got up out of the aid stations no matter how bad I hurt, and how crappy I felt, and kept moving forward! Kept my caloric intake up, which help off set some of the other problems that came up later. Used my trusty Hydropel on my feet to keep the blisters away, and had lots of good toons to listen to during the monotonous middle section of the race. I also brought my own aid station.
Wrong = Forgot my vavarin and coffee after loop three. Started shaking due to caffeine withdrawal. Had a hissy fit due to not getting my coffee when I wanted it.("who's *!!* do I gotta suck to get a cup of coffee around here?!, I snapped at my husband later on)I have got to quit drinking so much coffee! And I also should have brought two water bottles instead of just one on loops two and three.
Other Stuff = I thought it was a very well organized race. The race director put her heart into the race. The volunteers were great. There were lots of coyotes to cheer one on in the middle of the night. I've been told they only eat you if you're dead. But what if you smell dead????
####
Craig Hess reports:
Tri-Cities Marathon Trip Report
It's been over 18 months since my last marathon (Boston 2002) and trip report. So I was thinking that just before my middle name officially, and permanently, became "slacker," it was probably about time to do another marathon. I realized my 50 states counter hadn't moved in 18 months, the exact length of time since I ran my last marathon. I suspect there's a correlation. The Tri-Cities are in south central Washington. (Pasco, Richland, and Kennewick) The area was very dry and brown; nothing to write home about but there were some beautiful areas along the river and it looked as though the area was growing fast.
Had I never run the Wyoming marathon, this event would have redefined "small." There were only about 120 marathoners although there was also a relay event and some inline skaters. The course was pretty fast and the weather was perfect. I ran a 3:24. Almost accidentally qualified for Boston. Not too bad for another minimalist training regimen and an ankle that never quite healed from two years ago.
The trip was combined with a visit to Leavenworth, WA. It's a beautiful little town in central WA with a Bavarian theme. I wanted to take Lori there. We had a great little vacation. It's an incredible area (i.e. tons of outdoor activity) on the eastern side of Cascades and it was just great to get out of the tropics for a while and breathe cold autumn air and see some snow on the peaks.
The week prior to the marathon Lori and I went to the big island of Hawaii to watch the 25th Anniversary World Championship Ironman competition and to try and get a little inspired to run it myself. The event was awesome and Lori's friend (Eric Peterson) from Colorado Springs did fantastic. (8th out of the water and 104th overall!) Target date for me is still March 05 in New Zealand. Plenty of time for me to come to my senses.
To follow-up on a story I wrote about 18 months ago, and on a much sadder note, I know I mentioned my friend Tom Lopez who was undergoing surgery for brain cancer the day I ran Boston in 2002. Unfortunately, Tom passed away several months later. Tom was a great officer, a great dad, and one who never deserved to leave us so soon. He was only 43 and he is greatly missed. Never take your friends and family for granted. I am guilty of that sometimes.
My 12th and final marathon of 2001 was supposed to have been in Honolulu but a deployment to Turkey pre-empted that. It was meant to be. I'll now be sleeping in my own bed the night before and running Honolulu in two weeks. THEN I'm taking a break and staying off my ankle. promise. The Ironman will be painful enough with a healthy ankle. All for now. Course info below.
Tri-Cities Marathon — 26 Oct 03
Entry Fee — $45
Link — http://www.3rrr.org/marathon (link appears broken for some reason as I write this report)
Course — Basically an out-and-back course that runs south along the Columbia River, crosses the river 4 times and ends up back in Pasco. A fairly flat course with the exception of the bridges that span the Columbia. Most of the route is very scenic and on a nice bike trail along the river. Enough volunteers and Gatorade every two miles. The course is very "family friendly" in that it's very easy to meet your runner at multiple locations. I think I met Lori six or seven times along the route.
Expo — Easy on the wallet. No such thing as an expo here.
Goodie Bag — Maybe a coupon for Dairy Queen or something.
Medal — Standard; nothing special.
T-Shirt — Decent long sleeve T.
Super Neat Hi Tech Thing — Your running chip was tied to the Internet again. You could track the event online (updates every 5K) and register up to 6 email and wireless friends to receive text message updates. Oh wait, that was Boston. Nothing to report here in this category.
Crowds — I noticed from my last trip report (Boston) the comment under "Crowds" was "TOUGH to beat!! They were supposedly 1.5 million spectators along the route." This was the complete opposite. Unless some really believes that three is a crowd, there was none to speak of. It was like a very pleasant long solo training run.
Start temp — Cool. Mid-40's. Perfect. Warmed up to the 60's by finish time.
TIP — Stay at the "official" race hotel. Shilo Inn. The start/finish line is in the parking lot and was about 50 meters from my room. Never had a more convenient setup.
Overall impression — Very nice, albeit very small event. If you're in the area and it's time to do a marathon, go ahead. Why not?
####
Go out hard, when it hurts speed up...
Matt Carpenter
http://www.skyrunner.com
Incline Club
http://www.inclinclub.com
Barr Trail Mountain Race
http://www.runpikespeak.com
presented by Pikes Peak National Bank
Friends of the Peak
http://www.fotp.com
---