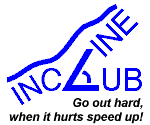 2003 Incline Club V7 TH #13-18 LR #33-38
---
Incline Club V7 TH #13-18 LR #33-38
Sent: Tuesday, August 05, 2003 6:01 PM
Subject: Incline Club V7 TH #13-18 LR #33-38
Hi ICers,
The rumor that Yvonne, Kyla and I ran up to Cripple Creek (a gambling town for you non-locals) with over $5,000 in IC shirt money is false! It was No Name Creek (on the Pikes Peak Barr Trail for you NLs) and since there is nothing to buy there we went ahead and ordered the club shirts. Seriously however, as I write the last of the shirts are being printed:-) The final numbers on the shirt order came to 229 with a dollar total of $5,093.50. We will begin handing out the shirts at this Thursday's club run. We should all, I know I did, thank Yvonne for handling a rather stressful situation. She put the order in well over a month ago and was told by BOA that about half the styles we ordered were not available! They then suggested substitutions to which Yvonne said "NO WAY!!!!" Turns out they had a bad batch of material from their supplier and everyone, including the IC, were put on hold while they waited for new material to make the shirts. We got quite a bit of the order sent to us in early July and thought it would be best to just hold that until the rest of the order arrived. In hindsight this was a mistake because the rest of the order arrived only today! Yvonne and I both are glad that this is a once a year thing for us and not a business. I hope you can be understanding and work with us to pick up your shirts (unless you asked for them to be mailed) so that we can all wear them proudly in the PPA/M/D or Leadville!
Speaking of shirts, the IC shirt was rather prominently displayed in a photo essay in the Denver Post on Sunday with the caption, "The shirt that says it all." First person to ID the runner wearing the shirt (other than the shirt wearer and those that the runner or I know already know) wins an IC shirt! http://www.inclineclub.com/img/p_whyrun_dp.jpg
A big thank you to those of you that took the time to fill out the survey last month that was set up for the Incline Club. The people doing the survey said, "The info was very helpful and informative." 159 of us filled out a survey which is a lot more than we get at the runs so we can consider this a success. Although we did not earn enough to cover all the annual party costs we have a good start:-)
In other news, more than a few of you have asked "where is the IC newsletter?" You are reading it silly! Again, seriously I just have been having a hard time finding time to put one out. There for a while the Barr Trail Mountain Race was taking most of my free time and after that I just needed a mental break so that I did not burn-out on running all together. Two years ago things got so bad at this time that Yvonne was driving me out of town and dropping me off so I would be forced to run home to get a run in! Rest assured however the IC remains a high priority. All the race reports are now posted on the site and all the *s and what not are up to date:-) Note that with people starting from the bottom, middle and top of Pikes Peak for the Sunday runs there is a chance you are missing a *. Please check out both * boards and let me know because we are almost at the end of the season!
On that note, with the end of the season drawing near (meaning the big race is even nearer) don't make the mistake of taking your hard training to close to your race! At this point there is little to be gained. I do recommend any altitude time you can squeeze in but aside from Thursday I would not be doing any more really hard workouts. The risks are just too great. It is time to taper and relax — heck you can kill half the week reading all the R reports down below!
Finally, a big THANKS to all the ICers who helped or ran the Barr Trail Mountain Race! Over $17,000 was donated to local non profits and high schools!!! With 27 ICers volunteering and another 91 running a total of 118 ICers were a big part of that success:-) If you volunteered please let me know if you did not get a V on the * board or let Yvonne know if you did not get a volunteer T-shirt, race packet or Chipotle meal certificate:-P
###############################################
NEXT RUN:
###############################################
Thursday, August 7, 5:45pm — Hydro Street
Meet at Memorial Park to pick up your shirts! Warm-up to Hydro Street. Leave the park at a time that gets you to Hydro Street on time. Do a tempo run up the Barr Trail for 20-30 minutes or to No Name Creek, whichever comes first. Easy run back down the Barr Trail and then do 5 Hydro Street hill repeats. Cool down back to the park.
Sunday, August 10, 7:00am — Pikes Peak Toll Road
Pay your way through the toll booth and car pool to the summit. Run down to the 2 mile or 3 mile sign and back up. Walk easy back over top mile and remove any small rocks that have fallen on the trail. Done! We are ready!!!
###############################################
ICers WRITE:
###############################################
Hans Zimmermann writes:
Well, I too did it, went too fast down a hill, tried to negotiate a sharp turn, but this poorly trained bike dumped me, (have to blame the bike). Result, a cracked rib. Come the Pikes Peak Ascent, I'll hope to be able to hike it. Until then you might see me slinking around on the trails near Mt Herman.
####
Dave Sorenson writes:
Would you like to help out with the pre-race setup for the Pikes Peak Ascent and Marathon and get in a workout at the same time? Help is needed for the following activities:
Setup of the Incline Aid Station
Saturday, August 9th, 6:30 AM — 10:00 AM (approximate)
Volunteers are meeting at Memorial Park in Manitou Springs at 6:30 AM. From there, they will drive up to the top of the Incline via the service road (Long's Ranch Road). They will be hauling things from the top of the Incline down to the where the aid station is located, and also make sure that the hoses that are already there are still in good shape. So basically, you are a human pack animal on the incline. About 2-3 additional people are needed. Just show up if you want to help out, and ask for Bob Dillow, who is heading up this effort.
Setup of the Cirque and A-Frame Aid Stations
Wednesday, August 13th, 6:30 AM — 11:00 AM (approximate)
Volunteers will meet at the toll road gate at 6:30 AM. From there, they will drive a bunch of supplies to the summit. Some of the supplies are stored in one of the buildings at the summit. And then the real fun begins as hoses are laid out from the summit down to the Cirque Aid Station. I think some supplies are also packed down to the A-Frame. As many people as possible are needed. The more people, the less each person has to pack down the mountain. Just show up at the toll gate if you want to help out, and check in with Bob Dillow. If you can play hookey from work for a morning, this can be a fun diversion from your everyday activities.
####
Valerie Prothe writes:
Don't know if you saw this, but Anita made her goal (in the wee hours this
morning) of finishing Bad Water in under 48 hours. She completed it in
46:48:49.
(Matt C adds: Anita's race report is below)
####
Steve Bremner writes:
I'll be returning to the Springs in November! I got notified of my new assignment to Peterson today. Great news.
June 25th I ran and won the Mongolian Sunrise to Sunset Marathon in 4:24. (Race report is in race reports section) Great race and wonderful experience. Highly recommended! I intend to return next year and try the 100K distance.
I'm planning on coming to CO in August to run Nolan's 14, Aug 7th.
####
John O'Neill writes:
You might like this: http://home.attbi.com/~bernhard36/honda-ad.html
(Matt C adds: I did and thought you all might as well!)
###############################################
R REPORTS:
###############################################
Mark Cafiero reports:
Race = Golden Gate Canyon Trail Run
Location = Golden Gate Canyon (Gilpin County)
Date = 8/3/03
Distance = 10M
Goal = 2:00
Results = disqualified
General = Ok, I was disqualified, but the race was AWESOME and I highly recommend it. It went up and up through some jungly woods, then there was a short descent on paved roads, then back to the jungle to a 600 vert-foot climb/scramble in less than 3/4 mile distance. Finally a steep, rocky descent to the finish.
Right = Ate well, well hydrated ran strong... until I messed up my knee on the descent. :( (that's what disqualified me)
Wrong = I really don't think I did much wrong! When I was running, I felt really strong. And even on the descent, I had good footing the whole way, but my knee suddenly started hurting... more and more... until it was simply impossible to continue. I had to get rescued and taken back. First time that's ever happened to me. My knee is killing me right now and I hope it will be OK by Aug 16!
Other Stuff = Again, it's really a beautiful run with a total vert gain of over 2000 ft. and attracts a lot of hard-core competitors. This was the first year of this run. I had a blast.
####
Derek Griffiths reports:
Race = Golden Gate Trail 10 Mile
Location = Golden Gate State Park
Date = 8/3/2003
Distance = 10.5 Miles
Results = 3rd in 85:55
General = Trail race in Golden Gate State Park. 2000' of climb at between 8500' and 9500'. Some smooth single track as well as some very technical sections. 400 meter rock scramble at 8 miles.
####
Mark Cafiero reports:
Race = Joe Colton's Adventure Run
Location = Rollinsville
Date = 7/27/03
Distance = 15 miles
Results = 2:20:??
General = 15 miles out-and-back. Fair scenery, but not what I hoped for.
Right = Ate well the day before and morning of. Well hydrated.
Wrong = Didn't push myself hard enough
Other Stuff = It was pretty boring, honestly, but great aid stations, and lots of nice treats at the end. Also there was a xylophone band at the end.
####
Dave Sorenson reports:
Race = Southeast Summer Scamper
Location = Portland, OR
Date = July 27, 2003
Distance = 5K
Results = Pretty darn slow
Website = http://www.t-events.com/index.html
General = I was in the area for a niece's wedding, and the race fit well into the schedule. It was a small race (150-200 runners) in one of Portland's many city parks. Lots of tall trees, meaning lots of shade from the sun. The course had a few small hills, and quite a few twists and turns. This is the first race I've run in nearly a year, and it was an eye opener to find out how slow I've become. But I did manage to pass a couple of people near the end, so at least I wasn't dead last.
Right =
Wrong = The wedding was the night before, and of course, I consumed too many wedding consumables. But that cake was sure good. I hadn't eaten red velvet cake in years.
Other Stuff = The best advice on this race was from my parents, who advised me to not eat any dead meat found in the park. (Don't parents always have unique advice for their offspring?) At this park, somebody has been leaving poisoned meat in the bushes for the dogs. Most of the dogs who have eaten the meat have died. Apparently the person doing this is not happy with dog owners who have been violating the leash rules. This situation actually created some publicity for the race, as TV crews were in the park doing stories on the dog poisoning issue, and they also covered the race while they were there. So some of the runners (not me) were on the local news that evening.
####
Anita Bower Fromm reports:
Race = Badwater 135 Mile Ultramarathon
Location = Death Valley, CA
Date = July 22, 23,24th, 2003
Distance = 135 miles
Goal = under 48 hours
Results = 46 hours 48 minutes 49 seconds
Website = www.badwaterultra.com
General = The 2003 Badwater Race is a 135 mile foot race across that goes from the lowest point in the United States,282 feet below sea level, to the Whitney Portals at 8300 feet. There are three major mountain ranges to go up, with climbs over 18 miles in 120 degree heat and blast furnace like winds in your face, with equally difficult quad-busting descents. When you aren't climbing or descending, there are mind-numbing 20-42 mile stretches of 200 degree road to run on instead.
Right = I will start with my crew. That was the first thing I did right. My crew this year consisted of five people, several of who are ultrarunners themselves. My crew gave of themselves endlessly, even in some of my lowest points in the race. I would like to bring special attention to one crew member in particular; IC member Rick Crawford. Rick became like a big brother to me during the course of the race. It is hard for me to put into words all that he did. Like no one else, Rick could get me to laugh when I was either dry heaving, fixing problematic feet, gagging down Perpetuem,(or as I called it, "Swill,") getting in a funk because the road wouldn't end when I wanted it to, was hallucinating and seeing couches and corpses on the road, got over-heated and stopped processing fluids for 40 miles because I went out too fast, Rick would be there to point out the absurdity and insanity of the whole situation in his own unique way, which included his now famous rendition of 'Baby Got Back, 148; his Julia Child impersonation, and the occasional mooning of me and the crew. Yes, mooning. As I was making my way up to Father Crowleys point at 85 miles, and Navy fighter planes roared over head, and I was drinking Malox out of the bottle, and lightening flashed in the Panamints and a dust storm loomed in the dry lake bed we just crossed in the nick of time, Rick mooned us. It added to the insanity that is Badwater.
Rick was an excellent pacer up the final and steepest mountain range; the Whitney Portal Road. I could write an entire chapter on how he helped get me up that road, in time for me to buckle. I was right on the "border" to buckle this year. Sometimes I was way ahead of schedule, other times, behind. In the end it wasn't the clock that I would be fighting to the finish, it was myself. I said to my crew, as Malox and G-push dribbled out of my mouth, that I would rather finish in 60 hours than finish one minute over the 48 hour cut-off for the buckle. Until now, I never understood why some athletes would quit in an ultra if they knew they weren't going to come in first. Now I understand. But Rick, and the rest of my crew had faith in me to buckle. I think it meant more to them that I buckle than it meant to me. So when I figured that out, I gave it everything I got.
OK. Other things I did right. I only slept 17 minutes total. I would take a vivarin before a nap or rest, so that by the time I would get up, it would circulated in my system more and it would be easier to get up. This really helped. I also had litmus paper to check the acidity/alkalinity level in my body. As it turned out, during my low points, I was very acid, which is never good for anyone. To counter that, I drank Malox, which tasted awful, but helped. I also took calcium and magnesium, boron, and vitamin D to keep my muscles from cramping. I kept very hydrated, and once again used Penta water to enhance this process.
Another thing I did right was to have my crew call my husband, who was coming out the second day, and tell him to bring ice. As it turned out, the ice machine at mile 42 broke, and the little store at mile 72 was out. Since my husband just found out that he is now on the deployment roster, he wasn't sure he could make it out. but as I neared the top of Townes Pass, my crew told me there was a surprise around the bend. There was Tim and six beautiful bags of ice. Good thing, because it didn't get below 96 until mile 85.
I also used Injinji socks and Hydropel and baby powder. Anyone who suffers from blisters should try these socks. Last year I spent seven hours on blisters. This year I didn't get one blister that needed to be fixed. They look strange, and take some getting used to, but are well worth it.
Wrong = Once again, I got a little too cranky at times, and directed this anger(at a distance) at one of my crew members who I felt wasn't pulling his weight, and he was making it more difficult for everyone. Fortunately I had a Mormon minister on my crew who would stay calm and positive no matter what. He was so tactful and patient, and had a way of redirecting my hostility. I also had a crew member who was Islamic, so I got to hear all about these two world religions to keep me occupied.
In retrospect, I think in extreme events, whether it's running or mountain climbing or goat herding, we all get so tired, we tend to react, instead of respond. There is a huge difference. Reacting is instinctual, fight or flight, primal, and requires no thought or IQ. Reacting can be a friend or enemy, depending on the circumstances. The minister on my team reminded me to respond, which requires a little more thought and energy, but which paid off tremendously later.
Other Stuff = Some people on the course reported temperatures of 133-135. It was also humid, with little wind at the start. I actually saw several rainbows on the course, and could smell rain around mile 30. The weather this year was more extreme than in recent years, and the high drop out rate was no surprise. Some people got hailed on during their ascent on the Whitney Portal road. We got rained on. There was also a small dust storm to contend with around mile 107, and the blowing sand stung my ankles and cut them until they started to bleed.
####
David Reily reports:
Race = Tahoe Rim Trail Endurance Run
Location = Spooner Lake State Park, NV
Date = 7/19/03
Distance = 50 miles
Goal = Under 11 hours to qualify for Western States
Results = 10:36:40
Website = http://www.laketahoemarathon.com/
General = My first ultra, finished first male in 50-59 division. Qualified for Western States 100 lottery. Gorgeous trail run on the Tahoe Rim Trail and forest roads along east side of Lake Tahoe. Elevations between 6800' and 9000'. Their motto: "A glimpse of Heaven, a taste of Hell." Route is basically a modified out & back.
Right = Trained well (thanks to Margie Stauffer!) and had no injuries. Good taper and good diet prep. Positive mental attitude and stayed fairly well hydrated even though it got pretty hot. Just enjoyed the day taking photos as I went. Wrote my splits on my arm, which was quite the topic among the other ultra runners!
Wrong = Slowed down some between miles 30-40. Could have trained more in the heat. Perhaps could've done a little more walking breaks during first half. Sorry, but I was just having a blast!
Other Stuff = Great race organization, plenty of volunteers, great aid stations. Trail was well marked. They offered an early start which I'm glad I did due to the heat. They also offer a 50K. No extreme hills, but lots of variety with almost all runnable surfaces. Not the easiest of ultras, but still very doable for people from Colorado! A great destination — I'd do it again.
####
Karen Smidt reports:
Race = University of Okoboji Marathon
Location = Okoboji, Iowa
Date = July 19
Distance = Marathon
Goal = Maintain training pace and stay relaxed (3:30+)
Results = 3:22
General = As an attempt to beat the humidity, the race started at 6 a.m. at Pikes Point on Lake Okoboji (Spirit Lake area in Northwest Iowa). The mosquitoes were ready for the early start which forced me to run the first few miles in a cotton shirt--ugh. The course meanders around the lake's perimeter occasionally veering out to join a highway that parallels the lakeshore drive. Lakeshore Drive is mostly shaded with undulating hills (yes-there are hills in Iowa!). The miles we had to run along the highway were agonizing because there was no shade and the pavement literally swirled with steam from the early morning fog. There were a few spectators on the course, but they were mostly boat-towing vacationers surprised to see a bunch of runners on the road. Halfway through the course, cyclists from the triathlon began to pass us and offer encouragement and the half-marathoners were just beginning to gather to start their race at 8 am. After 20 miles of circling the lake, we passed the starting point and headed toward Arnold's Park for the last 6 miles to the finish. It's amazing how different those last 6 miles felt and looked compared to when we ran them 2 hours before. The finish took us through the crowded resort area and into Arnold's Park peer. It was rather anticlimactic considering the 10k and triathlon competitors had already been swarming through the finish for the past hour or so. I did manage to beat all but the first place half-marathoner in, but no-one took notice that I was the first female finisher of the marathon. I didn't "race" at all which was a good confidence builder for me. I tend to be so competitive that I forget my pre-race plans of taking it easy. I ran with the first place female from mile 4-8 and ended up surging past her when we hit a few of those Iowa hills (It's all those Hydro Street repeats-- I just can't help myself). I maintained my position of 1st overall female throughout the rest of the race and slowly reeled in many of the runners dur ing the second half. I was 8th overall out of 120 runners and I think a 2:56 won the overall race. They gave gorgeous clock plaques during the low-key awards ceremony and had a big street party afterward. It's a beautiful course and a fun vacation spot for anyone looking to run in all 50 states, but I would definitely recommend bug spray and a high heat tolerance.
Right = I was true to my word by hitting the first five miles at exactly an 8 minute pace. I let everyone else jockey for position and relaxed into my training pace. It was easy to ignore other runner's surges as I'm used to training alone. Drank at every aid station knowing that the humidity would take its toll. After living on Guam for five years it's not hard to remember what running in a sauna is like. I took a gel at mile 8, 13, and 20. I also got up at 3 a.m. the morning of the race and ate two packages of instant oatmeal and fell back asleep. I think that really saved me from the stomach problems I tend to suffer during training runs and marathons.
Wrong = Pre-race: I ran a hard week up at Grand Lake, Colorado the week before the race and then jumped in the van on Thursday and drove until 2 a.m. to get to Sioux City, Iowa. Didn't get to sleep until 12 midnight Friday night after arriving in Okoboji late and rushing around trying to find a place to eat and viewing the course. Race: I didn't wear shorts that would withstand the the humid conditions. I sweat like no other human being, so by the time I hit mile 3 I was soaked straight through and I ended up spending too much time pulling the legs of my shorts out of places they had no business being. I would have been better off wearing a swimsuit. Post-race: I would caution against trying to slalom water-ski the afternoon after a race...and every day after that for a week. I don't think my hamstrings will ever forgive me.
Other Stuff = There really isn't any university at the University of Okoboji--it's a long standing myth that has brought competitors from all over the world year round to participate in everything from ice-fishing to the marathon.
####
Derek Griffiths reports:
Race = University of Okoboji Marathon
Location = Okoboji, IA
Date = 7/19/2003
Distance = Marathon
Goal = Get the state in
Results = 2nd in 3:03:20
General = Went to IA to get the state in. Plan was to run easy and just finish. Did that. The course was rather hilly considering it was in Iowa. Very hot and humid also. Only about 100 people in the race, but there was also a half marathon, 10k and a sprint triathlon.
####
Joe Cowell reports:
Race = Barr Trail Mountain Race
Location = Barr Trail
Date = 7-13-03
Distance = 12 plus miles
Goal = 2:43
Results = 2:32 I think
Website = http://www.runpikespeak.com
General = Ran about 10 minutes faster than I thought and felt pretty good for 90% of the race.
Right = Trained harder on Thursdays nights on Barr trail. Kept a steady pace throughout the race. Ate light the day before the race and drank mucho sports drink the day before. Really chowed down on the calories two days before the race.
Wrong = Didn't take the gravel out of my shoe before heading down from Barr Camp. Got blisters
Other Stuff = Fell down into a Yucca-type plant and had leg cramps after I hit the deck. Took a while to regain composure but only got a few scrapes. It was hot for me and everyone else.
####
Jordan Israel reports
Race = Barr Trail Mountain Race
Location = Manitou Springs
Date = July 13, 2003
Distance = 12 miles
Goal = 2:45
Results = 2:25:09
Website = http://www.runpikespeak.com
General = Perfect weather for a race to Barr Camp and Back. Organization was great and Aid stations were awesome.
Right = Tapered very well and rested alot the week leading up to the race. Stayed well hydrated days leading up to the race and during the race. Trained with the incline club as much as possible.
Wrong = After the race I still felt like I had some gas in the tank. I have always said if you still feel "good" after a race you didn't give enough of yourself to the race. I probably held back too much coming down.
Other Stuff = Course was as challenging as ever, however all of the encouragement along the way (including hikers) was a very nice change.
####
Dan Corbett reports:
Race = Barr Trail Mountain Race
Location = Manitou Springs, CO
Date = July 13th, 2003
Distance = 12
Goal = 2:30
Results = 2:15:55
Website = http://www.runpikespeak.com
General = This was my first every attempt at running a race with a significant UP. I had trained pretty good for it, but still was extremely nervous, up to the point of waking up in the middle of night most of the week before. All together it was a great race with excellent help!
Right = Trained hard, slowed to a walk on the steep stuff, kept hydrated, and ran with a couple of ICer's who helped me keep my pace.
Wrong = Underestimated myself at the beginning. I started too far back in the pack and spent the first three miles trying to pass people. Didn't push myself enough, had too much energy at Barr Camp and at the finish. Tried to dodge a hiker instead of a rock and took a nice fall.
Other Stuff = Meet a bunch of really nice people from the club who gave me some great advise and helped me along in the race. Hopefully I'll get myself out for a couple of club runs before I have to go back to school.
####
Gordon Barnett reports:
Race = BTMR 2003
Location = Barr Trail
Date = July 13 2003
Distance = 12 Miles
Goal = Not to Donate Blood
Results = 2:19:13
Website = http://www.runpikespeak.com
General = Sunny warm — soon to be hot day.
Little more crowded at the start line.
Right = Patient through the Ws.
Steady cadence.
Hydrated.
Recorded my anticipated split times — which I maintained.
Wrong = Could have used a gu or gel at the top.
Didn't push the decent, as a result lost almost 3 minutes from last year finishing time.
Other Stuff = Another great race, congratulations to all the ICers who performed so well. A special thanks to the organization committee for another excellent job! It was amazing — while standing in the finish area -seeing all the walking wounded.
####
John O'Donnell reports:
Race = Barr Trail Mountain Race
Location = Manitou Springs, Co
Date = July 13,2003
Distance = 12 Miles
Goal = Under 2.30 hours
Results = 2.37
Website = http://www.runpikespeak.com
General = Nice day until about 1.50 miles from the finish line, the
heat was like hitting a brick wall.

Right = Plenty of fluids and gel packs. Good carb load.
Wrong = Too slow a pace, attack mod did not set in. Could of used more rest also.
Other Stuff = Had migraine carry over from Saturday.
####
Robin Fontenot reports:
Race = BTMR
Location = PP
Date = July 13
Distance = 12 m
Goal = a respectable finish
Results = 2:28:03
Website = http://www.runpikespeak.com
General = This being my first trip to the mountain this year, I was pleased to finish strong. I want to have my "R" so I can again be a part of the club.
Right = Good training in high altitudes.
####
Mark Cafiero reports:
Race = Tresspass Trail Challenge
Location = Nederland
Date = July 13, 2003
Distance = 10M
Goal = no goal
Results = 1:55;01
General = 1st mile was downhill, the next 5.75 was up, then the rest was back down to the finish. About a 1500 vert gain. Nederland
Right = I ran it despite my conditions from the wedding I attended the night before. Passed a grip of people on the incline, never had to hike so that felt good. Went out to The Buff in Boulder after the race and had $.99 mimosas!
Wrong = Got 2 hrs sleep the night before because I was at a wedding. Drank way too much champagne, too...
Other Stuff = This was a really nice race. Great shade on the trails and a decent hill to climb. The race was small, but everyone there seemed really hard-core. Put on by the Boulder Running Company.
####
Curt Krieger reports:
Race = Duesey Days 10K
Location = Garner, Iowa
Date = July 12, 2003
Distance = 10K
Goal = Win age group and try to better the age-group course record
Results = 1st overall and lowered the age-group record by 4 seconds
General = 24th annual race on a flat, paved course around the town of Garner. The course has been certified since 1984 and age-group records are kept and posted each year on the entry form, adding additional interest in the race compared to similar "town" races in Iowa. This race, being in July, is often warm and humid, sometimes plagued with rain and lightning.
Right = Ran a strong 1st 5K and hit the mark at my 19 minute goal.
Wrong = Lost concentration and became complacent during the 4th and 5th miles resulting in quite a drop in average pace. Nearly missed the mark at the finish!
Other Stuff =
####
Fred Wright reports:
Race = Summer Round Up Trail 12k
Location = C.S., Colorado
Date = 07/06/03
Distance = 12K
Goal = To beat 2001 time (67:07)
Results = 68:23

General = This was my first race in 2003, entered as a warm up for the BTMR. Expected the race to be faster than in the past, as the course was reversed to place the hills at the beginning.
Actually felt quite good, even though it was toasty.

Right = Not much!
Wrong = No taper, little sleep in the two weeks prior.
Other Stuff = Good course for a tough workout. Well organized. Could there possibly be a nicer place to start and finish a race than the Equestrian Center?
Tons of I/C runners, and plenty of awards for them.
####
John O'Donnell reports
Race = Summer Roundup
Location = Colo. Spgs. Colo.
Date = July 6, 2003
Distance = 12k
Goal = Set pr
Results = 1:04

General = Course reversed from past years. Cool to start but got warm fast. Good showing by IC's.
Right = Plenty of fluids taken wit gel packs.
Wrong = Didn't carb load enough the day before.
Other Stuff = 2nd Leg of the Triple Crown.
####
Kelli Lusk reports:
Race = US Mountain Running Champs/Vail Hillclimb
Location = Vail, CO
Date = 07/06/03
Distance = 7.5 (?) miles
Goal = Top-3/sub-1:03
Results = 6th (US champs)/8th (open race)/1:06:36
Website = http://www.vailrec.com
General = This was a really cool race and it was nice to see so much solid competition on a great course. It was exciting that it was the first US Mountain Running Championships...more ICers (hey, Bryan Willis!) should have been racing this course since it's definitely a climbers dream! It wasn't as tough or steep as Mt Washington, but I like the way the course changed and there were small downhill sections to break things up a bit.
Right = Ran the course before the race weekend, so it gave me a good mental picture of what to expect.
Wrong = Tired, tired, tired! I backed-off a bit the week prior to the race because my legs were really tired, but they still hadn't come around by race day. The "practice" run I did on the course before race weekend produced the same time as race day (which was run easy while talking and running some of it with a friend). I figured I would've taken at least a couple minutes off my time had my legs been more rested. It probably didn't help that my boyfriend and I were camping the few days and night before the race....but hey, it was beautiful and we saw two moose!
Other Stuff = The race was organized and had appropriate aid stations along the course. The goody bag was nice and the race t-shirt was cool. It was fun to have the race finish and awards at the top of one of the ski lifts. There was bathrooms, refreshments, and food at the finish, along with a gondola ride down the mountain.
####
Matt Carpenter reports:
Race = Vail Hill Climb
Location = Vail, CO
Date = July 6, 2003
Distance = The last three times I have done this race there have been three courses. I am sure someone knows but not I or any other runners I spoke to.
Goal = Win
Results = A hard fought 7th
Website = http://www.vailrec.com
General = The winner, Peter DeLaCerda blew the field away and it was great to see (or rather hear about). For those that don't know or remember he got 2nd in the 2000 US Olympic Marathon Trials but did not get to go to the Olympics because the times were not fast enough. At any rate, after the race it was kind of funny to listen to some of the runners saying things like "this is not really a mountain running course." What bunk! 2000 feet vertical gain in 7 whatever miles may not be extreme but it is not a road race either. Peter just showed a bunch of people that are used to running in small races with little competition where the bar is! I was glad he came (and told him so) and the more runners like him we can get interested in the sport the better! I have run Vail much faster and I know the training that went into it. The rest of us just need to train is all.
Right = I showed, I ran, I finished. Not a lot else to say about it.
Wrong = More a matter of things not done than things done wrong. Simply my training is not like it used to be and in sports, especially running, when you don't train you get beat. I got beat and further I was not even in the hunt after 30 seconds. Funny thing is, with other priorities in my life now I am not going to get too worked up about it.
Other Stuff = Like the last Vail race I did the results took forever. By the time they got started about the only people left were award winners. It was kind of embarrassing to win my age-group because they pulled a guy from the top 3. Why should I win my age-group just because a guy in my age-group is faster? In fact, when written like that it does not even make sense! On the other side of the coin a couple of us, including myself, got pulled from USATF results because we refused to pay extra above the entry fee to be eligible for them. Oh well, in either case — age-groups or overall — numbers don't lie and the results show who finished where no matter how they fudge the numbers.
####
Curt Krieger reports:
Race = Afton 25K Run or 50K Ultra
Location = Afton state Park; Afton, MN
Date = July 5, 2003
Distance = 25K
Goal = around 2 hours and place in master's category
Results = 2:03:31 and 2nd Master
Website = http://home1.gte.net/ultrabob/Afton/afton.htm
General = It is a hilly, 25K loop (two laps for the 50K), that winds through the park's trail system. There is a measured gain/loss of 6300 feet for the 50K course.
Of prime concern are the hills. These rise from the river up rocky ravines. Caution is advised. At times, the footing is difficult, especially on the downgrade. But, for the most part, the trail is on well-established footing through the woodlands. There is some open field, grassy areas as well. Certain portions can be slick in the early morning dew or after rainfall.
Right = Used the hills to help practice for this year's Ascent. Tapered the week before as my legs had been feeling very dead from several weeks of increased mileage.
Wrong = Decided to drive to the race on the morning of the run. Fourth of July festivities and an early morning thunderstorm (both nights leading into the race day) left little time for restful sleep. Up at 3AM for the 7 AM start!!
Other Stuff = Very interesting course and lots of fun. Some of the course is on sections of the course for an annual snowshoe race during the winter.
####
Steve Bremner reports:
Race = Mongolia Sunrise to Sunset Marathon
Location = Toilogt, Mongolia (Lake Hovsgol)
Date = June 25, 2003
Distance = 42Km
Goal = Win
Results = Won, 4:24
Website = http://www.ultramongolia.com/
General = Traveled to what seemed to be the ends of the earth to run this race. I would probably never have come to Mongolia if I had not have heard of this race, touted as the most beautiful 100Km race in the world. I opted for the shorter version of marathon (42km) distance, but was very pleased with the experience.
We stayed in nomadic "gers" far from "civilization." Our only contact with the outside world for the week was a satellite phone that would cost $4/minute. A generator provided on and off electricity-- just an electric bulb in the ger. We had wood heat for a central stove.
The days before the race I spent scouting the course. Two days before race day I hike/ran the first half, and the day before I hiked/ran the second half. I was the only participant to spend the day before the race on the course. It didn't hurt me. Indeed, since I knew the way it worked to my advantage. The course was at base an "adventure course." The second half of the course is mostly not a trail per se, but just a "way" through the woods. Green ecological paint on trees marks the way.
The race begins at 0430 in the dark. The first 2-3 kilometers are on trail. Headlamp or flashlight is required, as is a full ensemble of gear, including rain coat, rain pants, space blanket, compass, whistle, course map, etc. Problem was, some of the Mongolian participants didn't carry the requisite equip.
I settled in behind two Mongolians, letting them lead the way through the woods. I matched their steps. Once on the road, we ran into a head wind with light rain drizzle as the dawn slowly lit the way. I felt the pace was too slow, but each time I tried to move ahead the lead Mongolian would speed up, so I settled in and let him take on the wind.
After about 9 km we came on the first formidable hill--about 5 km of uphill--may be longer, I'm not sure. One Mongol dropped off and I kept pace with the leader. Just before the top I surged and kept surging on the downhill, leaving him well behind. Lessons learned from races in Colorado. In a mtn marathon your rest is on the uphill. The downhill must be relentless.
Close to the bottom of this section I stopped to relieve myself. I had plenty of lead. Afterwards, I took two steps and promptly went flat on my face after tripping on a stone. Rude awakening! Shaken, I stumbled on.
Next pass was up more of a "way" than a trail. The only possibility was to walk most of the way up as it was through downed logs and mossy undergrowth. Towards the top of the pass snow had stuck on the ground! The snow made for a slick course down. No way but to slip slowly down.
Finally, once below the steep section, the course was a gentle downhill road for about 5 km, before turning totally flat for the last 3-4 km.
I managed to come in with 4:24. Nominally a course record, and they gave me credit for the course record.
One minor point. A Mongolian competing in the 100km race was ahead of me by five minutes! He later wound up 2nd in the 100Km. During the awards ceremony I made the point of recognizing him. He ran two races. He was the winner of the 42 km and 2nd in the 100Km.
I never saw him during the race, and thought all along that I was in first. He just took off at the start and vanished off the radar screen.
Right = Maintained rhythm, ran uphill. No rest on downhill.
Wrong = Too slow in beginning maybe.
Other Stuff = Please consider running this wonderful course. The experience will transform you. Mongolia is fantastic! The international participant field is a lot of fun. Out of some 60 participants, there were only four Americans. English, Irish, German, Swiss, Aussies, Ex pats, Kiwis, Mexicans, French, Mongolians, Belgique, and on and on...
####
(Note from Matt: This R report was turned in the day of the race and I forgot to add it to newsletter TH #10 LR #30)
Connilee Walter reports:
Race = Garden 10 miler
Location = Garden of the Gods
Date = June 8, 2003
Distance = 10 miler
Goal = break 1:10 and then...literally... to finish
Results = 1:11:41, 5th place
Website = http://pikespeakmarathon.org
General = Have you ever found yourself in a situation where you have given others advice and now you have to take your own advice? I spent the whole week before the Garden unable to eat anything due to a stomach virus. As a result, I was feeling tired and weak and had about "zero" energy in my tank. But I'd already signed up for the dumb race (only a dumb race if you are thinking you can't run it or run it well). Prior to the pre-Garden hell week I had hoped to break 1:10. By Saturday night I was unsure if I even had the energy to run 10 miles but was feeling better than any other day that week. Here's where the advice part comes in...I would have advised anyone else in this situation (particularly the high school athletes I have the pleasure of coaching) to just get out there and give it a shot even though you feel lousy. So, I did. I literally went into this race feeling like I would be happy if I could finish it. Considering that I am pleased with the results.
Right = 2 months of track workouts, hill workouts and long runs were my saving grace. I had a good foundation to fall back on when my pre-race week stunk. Took a gel at mile 5 (normally I wouldn't do this but since I had little to extra energy it really helped). Didn't quit (I wanted to).
Wrong = I should have kicked Keith in the Achilles tendon when he said "why couldn't you catch those two girls ahead of you??." I also should have caught those two girls ahead of me. They were so close. Bummer.
Other Stuff = Couldn't have asked for a more beautiful morning, weather-wise.
###############################################
NON R REPORTS: (Saturday instate)
###############################################
John Mills reports
Race = Grin and Bear It
Location = Crested Butte, CO
Date = 26 July 03
Distance = 9.3 miles
Goal = 1:51
Results = 1:53
General = Non- "R" Report. Beautiful race for the scenery and wildflowers. It mixes some road (less than 1/4 mile total) dirt road (1/2 mile), and singletrack (majority of the course). Out and back course, well marked, and great volunteers. The goody bag is great and lots of post-race refreshments, snacks, and give-aways. 2 water stops — 2 miles and the turnaround point 4.1 miles). 1,700 ft elevation gain in 4.1 miles.
Right = Training with the IC. This race is all about a hill so PP running is a plus.
Wrong = Holding back too much on the lower portion. The footing gets tricky on the upper 1/2 of the course, rocks and roots mainly. I felt I could have run more of it but the footing was too bad to make up any time.
Other Stuff = Course starts on the edge of Crested Butte. Short stretch (3 blocks), on city streets then a short "sledding hill" uphill to get on a dirt road. The course then starts on a shaded switchback single track trail ("Green Lake Trail"for about 1 mile. There is a short but steep stretch following a buried powerline installation. Another 1/4 mile on level dirt road,a water stop, then back onto the single track Green Lake Trail for 2 miles. This trail is alternate STEEP and not so steep. Fairly rocky, some roots and mostly shaded. Really rocky around the top of the trail. Green Lake is a little snow-fed lake that is also the turnaround. The first 2 miles of the return is tough to really race due to the rocks.
####
Devin Allen reports:
Race = Adventure Xstream Breckenridge
Location = Breckenridge, CO.
Date = July 26, 2003
Distance = 9.5 run, 8.5 skate, 9.5 paddle, 24 MTB
Goal = Win 2-person Division
Results = Won 2-person division, 9hr 21min
Website = http://www.gravityplay.com
General = In case any IC'ers are contemplating an adventure race, this series is a good one for beginners. Teams could be 3-person, 2-person, or solo and either same gender or co-ed. World-class adventure racers Mike Kloser, Ian Adamson, Danelle Ballengee, Mike Freeburn and Mona Merrill were just a few of the top racers present. The race started and finished at Beaver Run Resort in Breckenridge. Leg 1 consisted of a trail run over the saddle between peaks 8 and 9 and down to Copper Mountain ski area (almost 3,000 ft gain). Leg 2 was an in-line skate from Copper to the marina at Dillon Reservoir in Frisco. Leg 3 was a kayak/canoe paddle section on the reservoir. Leg 4 was two separate mountain bike legs totaling 24 miles (over 4,000 ft climbing combined). Of 75 teams, only 20 completed the whole course due to either cut-off times or simply quitting before the last 11-mile MTB leg. Overall, a very physically & mentally challenging, but well-organized, adventure race.
Right = 1) Rented a long, fast 2-person kayak. We were not experienced paddlers so every advantage we could find would help.
2) Stayed upright on the in-line skates. Not highly experienced skaters, we were concerned with the 700-ft drop in elevation over the 8.5 mile course. Some teams elected to MTB this section and take a 45-minute penalty.
3) Persevered on the last MTB leg. This section was daunting, to say the least, with thunderstorms developing and a 2,500 ft climb (much of which was unrideable) and a highly technical downhill segment.
4) Fueled and hydrated well throughout the race.
Wrong = 1) Forgot to get our rain jackets at the transition from paddle to MTB. Could have been disastrous if it had rained any harder (hypothermia!).
2) Removed my long-sleeve shirt before the paddle and didn't sunscreen my arms.
3) Missed a turn at the 2nd to last checkpoint and rode a little further than necessary (and partner fell in creek at 12,500 ft, adding to hypothermia risk).
Other Stuff = If you're longing for a different kind of challenge, this is a good place to start. A little spendy when all the equipment and entry fees are considered, but a worthwhile challenge. Other races in the series include Moab, UT. (March), Durango (June), and Vail (Sept). Some require rappelling skills, as well.
####
Rick Pearcy reports:
Race = Leadville Trail Marathon
Location = Leadville, CO.
Date = July 5, 2003
Distance = 26.2 miles
Goal = 7 hours
Results = 5:59 hours
Website = http://www.leadvilletrail100.com/
General = Leadville Trail Marathon is run on old mining roads and trails. The turn around point is at the summit of Mosquito Pass (13,188 feet)and the views were awesome. The weather was as beautiful as the vistas.
Right = Steady pace. Good hydration/fuel.
Wrong = Too slow going downhill.
Other Stuff = Two years of running with Incline Club = two hours faster than two years ago marathon time.
Patrick Leary reports:
Race = Leadville Trail Marathon
Location = Leadville, CO
Date = July 5th
Distance = 26.2 Miles
Goal = 5:30:00
Results = 5:26:36
Website = http://www.leadvilletrail100.com
General = All hills, all the time. The course is much less traveled than
Barr Trail, and pretty rough in lots of spots. Race support, especially at
the aid stations, was first class. Everything you could want was available,
and the people were fantastic. I place 17th in the men's 40-49 age group.
56th overall. There were 38 DNF's out of 259 who started the course.
Right = I paced myself, and drank LOTS of water and Gatorade. Also had 8 GU
packs on the trail as well as watermelon at each aid station. Also tapered
well the week before.
Wrong = I should have used sun block on my forehead, or worn a hat. It was
scorching hot the entire race, including at the top of Mosquito pass. I got
a nice forehead burn.
####
Rick Crawford reports:
Race = Leadville Marathon
Location = Leadville Colo
Date = July 5 2003
Distance = 26.2m
Goal = 7hrs
Results = 6:24:00
General = Race starts in town elev. 10,200ft and runs up into the old Mining District approx 4m before the first real aid station (well stocked) then up and around Ball? Mtn, down back toward the Mining area and up Mosquito Pass (elev. 13,187ft)which completes the first 13.1m. Turning around @ the top and repeat the course in reverse
####
Sarah Altonen reports:
Race = Slackers 1/2 marathon
Location = Loveland to Georgetown
Date = 06-28-03
Distance = 13.1 miles
Goal = 1hour 44mins
Results = 1hour 52 mins
General = It was a perfect day with lots of sun shine. I wish I had more rest the night before. I wasn't pleased with my time at all. But it was still a pretty course. I got into the altitude which was good for the PPA training.
Right = Got up early to eat and hydrate.
I kept going even though my stomach was killing me and ran the whole thing.
Wrong = 4 1/2 hours of sleep the night before. I will do it differently next time.
Probably not enough hydration, thus the stomach pains.
I did not feel very prepared and my legs were stiff and sore at the beginning of the race.
We live and learn.
Other Stuff = The course had lots of down hill, lots of flats and some minor ups. I thought it was a fun course and very beautiful. It did however go along I-70 for some of the time. There were plenty of water/Gatorade stops.
###############################################
WWW POSTS:
###############################################
8/4/03 Mon: Just to follow up on the note yesterday about the fire. It was contained to about 2-3 acres. A lightning strike on Saturday evening is the suspected cause.
8/3/03 Sun: The Incline Club was part of a photo essay in Denver Post! At least 59 ICers were on the mountain today. An awesome rain storm last night left the trail damp and easy to run today. Most started from either Elk Park or the summit. About 6 of us did some trail work on the final couple of switch-backs. On the way down the mountain we spotted a fire burning above Ute Pass Trail. Looks like plenty of fire fighters were already there. Will have to watch this one because that is some steep hillside and it just depends on the wind I would guess. I would also guess this got started by last night's lightning storm.
7/31/03 Thur: 53 showed up for 30 minutes of 1 minute hard, 1 minute easy. 10 Hydro Hills rounded out the workout. Only 1 more week of hard training to go for the PPA/M
7/27/03 Sun: At least 50 ICers were on Pikes Peak today but because people are running different sections at different times it is hard to tell for sure how many more were out there. The weather was perfect for running today with the clouds keeping things cool down on the Ws.
7/24/03 Thur: 54 came out for a tempo run starting at Hydro Street. The trail was very dry today and quite a few people reported dry throats within a few minutes of starting. That did not stop some from setting PRs however. 10 Hydro hill repeats finished the workout.
7/20/03 Sun: At least 63 ICers were on the mountain today and possibly more because they took on Pikes Peak from several fronts. Most started at Elk Park but a bunch also went from the bottom while still others were doing repeats on the top miles. Larry Miller and Andy Dimmen moved several rocks off of our mile including the gonzo one that had been blocking the way for several weeks now.
7/17/03 Thur: 49 of us jumped back into the swing of things with 30 mins of 1 min hard, 1 minute easy. It was a hot one for sure and the 10 repeats on Hydro Hill felt like the slow bake.
7/13/03 Sun: With 27 volunteering and another 91 running a total of 118 ICers (a new record for a race) took part in the 4th annual Barr Trail Mountain Race. A boatload of awards were taken by the club and IC shirts were everywhere. Now we get ready for the PPA/M!!!
7/10/03 Thur: Thanks to this weekend's BTMR most of the 50 who showed up got to do a taper run. We did a time check on the first switch-back and that was about the extent of the day. Those not racing on the weekend went for the full 30 minute tempo run. It was nice to pass up Hydro Street on the way down:-)
7/6/03 Sun: With about 30 ICers running the Summer Round Up 12K and several others doing other races, 29 ICers were left to take on Pikes Peak. The snow report goes like this: there is none thanks to all the shoveling that has been going on up there! This moved things up by about a week it was guessed although to be fair all the hard work did make it passable for an extra month! We still need to get those 2 big nasty rocks off of our mile. At least the folks at Barr Camp cut out the tree that was just above the Bottomless Pit sign:-)
7/3/03 Thur: 46 came out for some 1 on, 1 off today. While quite a few did 30 minutes of it many of us just did 10 as a taper for upcoming races on the weekend. It was also nice to only do a few Hydro Street Hell repeats:-)
6/29/03 Sun: 62 ICers were all over Pikes Peak today with about 40 starting from Elk Park or the summit. There are only 19 steps in the snow before the 2 mile and 16 before the one mile. Snow is also not really a factor on the top mile any more after 6 of us got busy with the shovels. We also moved a ton of rocks but two really big rocks that fell in the last week on the approach to the 16 Golden Stairs will need to wait for another day when we bring up a jack!
6/26/03 Thur: 58 came out for a 30 minute tempo run up the Barr Trail. 10 Hydro Street hill repeats rounded out the workout. A good run by quite a few ICers as the racing season fast approaches.
####
Go out hard, when it hurts speed up...
Matt Carpenter
http://www.skyrunner.com
Incline Club
http://www.inclinclub.com
Barr Trail Mountain Race
http://www.runpikespeak.com
presented by Pikes Peak National Bank
Friends of the Peak
http://www.fotp.com
---