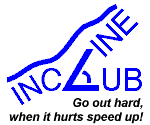 2003 Incline Club V7 LR #1
---
Incline Club V7 LR #1
Sent: Wednesday, November 20, 2002 3:34 PM
Subject: Incline Club V7 LR #1
Howdy ICers,
It is time to start our 7th season:-) First let me welcome the newbies who signed up over the off season. We now have 400 on the e-mailing list! A large number for sure and reflective of the growth of the club over the years. In fact, the numbers from last year were just huge! 3,416 *s were posted last year compared to 2,826 in 2001. We went from an average of 42 runners per workout in 2000, to 53 in 2001, to 65 last year!!! 317 runners came out for at least one club workout last year which is also a new record. You can see all of last year's stats at http://www.inclineclub.com/incline_2002.htm.
While on the club site you will also notice that the "*" boards have been wiped clean! Everyone has a chance to come out on top as the boards are not about how fast you are but about how dedicated you are. Of course it is not just a coincidence that many of the fast runners end up at the top of the board which brings up the number one tip for getting faster — run!
And run we did — more important than all the numbers is how well so many did last year in all kinds of races:-) Lets do the same in 2003! I look forward to seeing all the oldbies and newbies this Sunday as we once again work together to take ourselves to new heights. Don't be shy about coming out if you have not had much of an off season — it is a heck of a lot easier to get in shape with the group than on your own!
###############################################
NEXT RUNS:
###############################################
Sunday, November 24, 8:00am — Soda Springs Park
The club starts its 7th season!!! We begin with the UPT/Waldo/UPT run. If your off season has been like mine and had more OFF in it than SEASON do an out and back instead. Both UPT and Waldo are listed on the maps page on the club site.
###############################################
ICers WRITE:
###############################################
Rich Muzzy writes:
It's a boy, Devin Muzzy was born on September 19th at 11:00 a.m. He is 7 lbs 2 ozs and 18 inches long. His older sister, Elana, is getting along great with him, so far. Val and I are doing fine, although the dog is going through some minor jealousy and envy issues.
(Matt C adds: As you can see this "ICer Writes" took place early in the off season. Devin was the 10th IC baby born this year. Larry Miller also became a grandfather to Ashley K on October 13th. Within hours Larry was up on Pikes Peak doing trail work to celebrate.)
####
Robert and Linda Ronas write:
It doesn't look that steep from here!
(Matt C adds: Attached to the e-mail was this photo of the first of many evil hills in this Sunday's run http://www.inclineclub.com/photos/evilhill.jpg)
####
Fred Wright writes:
Last Friday I (shhh!), I ran the Incline (for only my third time, running a 3:40 PR for a 35:00). On the way down Barr Trail, I detoured around my "over the top" point, and with some searching, found my sunglasses, last seen resting on my cap prior to the "big dive." They were completely buried except for about an inch of one arm. That was two plusses, but as I didn't trip on the way down, I consider that I had a triple plus day.
(Matt C adds: For those that forgot; Fed took a spectacular spill earlier in the year in which Glen Ash had to rescue him from certain death only to be teased by the rest of us. There is a picture of Fred's butt, I mean bruise, at http://www.inclineclub.com/photos/fredfall.jpg)
###############################################
Non ICers WRITE:
###############################################
Jim Strub writes in part:
Just a note to thank the "incline" crew for your vision and work on the extreme upper section of the Devils Playground Trail. Yes, it is just a short section, but it is well done, including a gradient appropriate to the elevation and the tiredness of hikers by the time they get to that point.
####
Scott Jonas writes in part:
This is actually a Crags trail post. That's the other trail up Pikes. Having just finished a Volunteers for Outdoor Colorado (VOC) project to build/improve the upper sections of this trail, I wanted to thank all the Incline Club members who provided us with snacks and atta boys. That was a nice touch.
(Matt C adds: I have heard a lot great comments on what we did up there so rest assured the hard work got noticed! I have tried to get everyone's trail work hours updated on our adoption page. (http://www.inclineclub.com/adopt.htm) Please let me know if I missed you or have you for too few or too many hours. We had so many (at least 29) working on the Devils Playground trail that I had to guess on the hours because I was not sure about when some got started and when other finished. Also I wrote a short little piece about that day for the FOTP newsletter which can be read here: http://www.fotp.com/2002f/top.htm
Also on that note any ICer that worked on any portion of trail is welcome to come to the annual Friends of the Peak dinner this coming Saturday the 23rd at 5:30pm at the Manitou Springs City Hall. I realize this is on the same night as the Fall Series awards banquet but I also realize that not everyone did the Fall Series so this will be another way to get some free food:-)
###############################################
OFF SEASON NON R REPORTS:
###############################################
Joel Jenkins Reports:
Race = Army Ten-Miler
Location = Washington, D.C.
Date = 20 Oct 2002
Distance = 10 Miles
Goal = 1:30
Results = 1:40
Website = http://armytenmiler.com
General = Excellent race with 18,450 of your closest friends. First race run under the watchful eye of soldiers manning M-60's and .50 cal mounted weapons systems. Ran the day after the sniper got someone else so it was a little tense at the start line with such a large group. They spoke of a hill on the course, never did find it. ENTIRELY on the asphalt! Course runs through the memorial area of D.C., across the Potomac, etc. Lincoln, Washington, Reflecting Pool were all on the course. Great weather (40's and 50's) except for the humidity.
Right = Good shoes, good nutritional prep.
Wrong = VERY humid so I didn't drink enough even though I had my camelback on (never leave home without it you know). Bonked at the end because of it.
Other Stuff = Excellent race organization. This was my first race of this size. Much prefer the smaller trail races. Another thing I learned, road racers are very competitive with each other. I like trail runners who seem to be friendlier and compete more with the trail than each other.
####
Elizabeth Ahola reports:
Race = Boulder Backroads
Location = Boulder, CO
Date = 9/29/2002
Distance = Marathon
Goal = get close to 4 hrs.
Results = 4:28
Website = http://www.bolderbackroads.com
General = Very nice marathon. The course is a continual roller coaster of small hills. None as bad as the club's hill repeats.
Scenery was great. Lots of mini ranches with beautiful horses. The course map and elevation are on the web site.
A portion of the course is run on asphalt, but for the most part you can still run on the sides where there is dirt. Even though the roads are dirt, the surface is harder than a trail.
The race got nasty towards the end because the wind picked up and the little dirt tornadoes were bothersome.
There was no need to take GU's because there were Cliff Shots at all the water stops.
I also like the delay start for the ½ Marathoners.
The finish line is right next to the Boulder Reservoir where the water is very cool — great for soaking those sore muscles and feet.
The post race party/food feed wasn't impressive and neither was the race packet. The long sleeve race shirt was well done.
Right = Ate well and tried the new carbo loading method that I read about in a magazine. For a Sunday race, Friday 5 min warmup, 3-4 min fast tempo, 3-4 min as fast as you can, 5 min warmdown.
I like this approach and am going to combine it with the week before menu/diet.
Wrong = Train — Train — Train.
I've got to start getting more miles in.
Other Stuff = I recommend this one.
####
Gary Hellenga reports:
Race = Colorado Relay
Location = Idaho Springs — Glenwood Springs, Colorado
Date = September 20-21, 2002
Distance = 170 miles
Goal = Break 24 hours as a team; finish in top 3 corporate teams
Results = Finished in 23:54; got 4th in division (1 minute out of 3rd)
Website = http://www.coloradorelay.com
General = Had a great time, as usual! Also, as usual, had some anxious moments trying to replace some runners on the team at the last minute. Had a few runners get off course — we might have finished as high as 2nd in our division if this hadn't happened! Team included 6 runners from my company (Booz Allen Hamilton), which paid our team entry fee. Also included fellow IC'ers Lynn Hellenga and Jonathan Veteto.
Right = This was our third time doing this race, so we have the logistics and planning down pretty well. Runners had appropriate clothing for varying conditions (warm and sunny, to windy and cool — probably in high 30's for some of the night legs). Good time estimations (we finished 5 minutes faster than my estimate of 23 hours, 59 minutes).
Personally, I think I ran pretty smart on my legs. On the long leg (13 miles over Georgia Pass at 11,800), I took periodic walk breaks as I downed water and Clif Shots, and passed several people as I reached timberline. Felt pretty good at the pass, and was able to finish faster than I expected.
Wrong = Got a bit careless on leg where I got off course — I've run this leg before, and ran it about 5 weeks ago on a training run, so there really was no excuse for it. Drafted on another runner on first leg to break the strong headwind (good), but probably pushed it harder than I should have when I passed him about 2 miles into the leg — I probably should have saved more for the next (longest) leg.
Other Stuff = I've organized our company team in this event for the past 4 years. It's been a lot of fun, but I'd really like to get an Incline Club team together and see how competitive we could be!
####
Kita Alvares reports:
Race = LiteFoot
Location = Cheyenne Mt. High School
Date = 9/20/02
Distance = 1.34 miles
Goal = First girl
Results = First girl — Third overall
General = The race was for fifth and sixth grade boys and girls. I was the first fifth grader but was beat by two six grade boys. I was in front of them for a while but got off the trail and had to come back and the two boys passed me.
I started out in the front and did not run to fast. I was about in tenth place. At about half way the other kids started slowing down and I passed them. Then I got a little lost and lost a few seconds. I felt really good and was not really tired. I wanted to run it again it was so much fun.
Right = Didn't go out too fast. Ran the course the day before so I could learn the course.
Wrong = Could have gone a little bit faster. Got lost.
Other Stuff = There are four more races to do.
####
Sam Alvares reports:
Race = Lite Foot Series
Location = Cheyenne Mt. High School
Date = 9/20/02
Distance = .5 mile
Goal = Beat Dad
Results = First Place Male
General = I raced with the big Kindergarten kids. I'm just in pre-school. There was an Indian that started the race. I ran up a big hill and then down a big hill. I passed a corner. I let my Dad run because he is really slow. I ran fast. I'm glad that I did it.
Right = Ran fast and had fun and I won. I got a blue ribbon and a sticker.
Wrong = Took a little break on a big hill. That's were the girls passed me.
Other Stuff = I had to follow the pink ribbons and arrows.
####
David Reily reports:
Race = Golden Leaf Half Marathon (trail)
Location = Snowmass to Aspen, CO
Date = 9/15/02
Distance = 13.1 miles
Goal = About 2 hours and to enjoy the scenery
Results = 2:05:11 — 10th of 34 in my age group
Website = http://www.utemountaineer.com/events.html
General = Very scenic trail run from Snowmass Village to a park on edge of Aspen. 80% single track, 5% dirt road, 15% asphalt/concrete bikepath. Start about 8600', climb to 9600', end at 8000'. Numerous small stream crossings, many rolling hills, steep decline to bridge crossing Maroon Creek, many "glowing" aspens! Had great, sunny weather, yet cool.
Right = Sufficient altitude training (PP Marathon + hiking trip near Mt Rainier this summer). Brought water with me (most people did). Ate two gels. Walked when I needed to. Enjoyed meeting several other Incline Club members before and after race.
Wrong = Not too much — first time on this race and went for the scenery and to have fun.
Other Stuff = About 450 runners. Single-track got a little "busy." Race org was so-so. Not much available info before packet pick-up. There was a high percentage of good trail runners there. Stayed in Snowmass — limited eating opportunities as the town was shutting down for the "off season." Had three aid stations, could have used one more. T-shirt was pretty plain and simple. Race was tougher than I thought, but I was happy with the overall experience... probably will do again — for the fun & beauty!
####
Craig Hess Reports:
Better late than never right? Meant to get this IC edition out for some time now but have been caught up in the move to Hawaii.
Leadville 100? Did I say that?? I meant to say Leadville 50. I earned my first DNF (did not finish) this past weekend. Quite the humbling experience. I missed the cutoff time at mile 50 and my day was over after almost 15 hours. It's a hard to describe the course if you're not from around here or haven't run a similar course. For the pure marathoner's out there, these trail 100's are a whole new ballgame. I should have known something was screwy when my training runs include the Pikes Peak Marathon course with a few miles tacked on just for "fun."
The going-in plan was to just finish under the 30-hour cutoff. I set out on a 28 hour pace and was hoping to survive through mile 60 which would give me 2 slough hours to spare. I was about 20 minutes ahead of that schedule by mile 40 but the challenge, Hope Pass, was staring me in the face. Poor fueling and hydration (lesson learned), and a few nagging aches that only got worse on the ascent reminded me that I am such a rookie at this. Some days you have a good day on the mountain and some days you don't. We had a very HOT day and that was a bit draining.
I lost all my banked time and then some on the ascent and by the time I started down the back side of Hope toward Winfield I realized I would miss the 50 mile cutoff time and so I slowed to a crawl. Walking down the backside of Hope was like 3 miles worth of walking down stairs the day after a brutal marathon. What's weird about these ultras is that normally during a marathon if you bonk you've only got an hour or so to keep going to at least finish. In this race I had to stagger about 3.5 hours just to be able to quit!
All in all — a fantastic learning experience. Looking back, I had no business being there given my lame training this summer. I squeezed in all the runs I could but needed lots more. I'm in good company though. Leadville has a less-than 50% completion rate. Leadville 2002 saw 41% of the field finish the race. The percentage rate for first-timers at Leadville is even lower. But after paying $200 to enter, I'm at least going to give it a try.
I got up the next morning around 0700 and realized some folks still had about three hours on the course. I went back to Leadville to see the last hour of the run and cheer the last finishers. The last man to beat the cutoff had just over 1 minute to spare. The first non-finisher came in at 30 hours and 5 minutes. (bummer)
I now know that if my race involves 2 sunrises and a clean-shaven face goes to a starter beard before the race is over, I will take my training a little more seriously. As for the Leadville race itself…what an incredibly awesome event, especially for those that finish. Great atmosphere and a great group of ultra runners. I doubt I'll be back next year after living at sea level, but one day I will conquer Leadville. One guy is 0 for 16 in his attempts. I hope I don't take quite that long. Thanks to Lori for being the ultimate crew person and for Sid, Steve and John (my unemployed pacers) for being willing to help out the last 50 miles. Very disappointed I couldn't run with you.
One final note. One of the things that made Leadville a great experience was seeing so many IC runners there. And all did great and all finished. Oh wait...almost forgot...one exception besides me. My beloved mentor who specializes in training through negative motivation, Keith Grimes, got the big DNF. Prior to the race he proposed that anyone failing to finish has to wear a large pink "Leadville DNF" training t-shirt to all the IC runs. Please make sure that he is appropriately attired when you see him at the next club run. Will I be wearing mine over here? Of course...trust me. :-)
For those interested in the course map or the more interesting elevation chart, check out the following:
http://www.leadvilletrail100.com/Leadville100.jpg
http://www.leadvilletrail100.com/LT100RP.jpg
Race website: http://www.leadvilletrail100.com/
Leadville is definitely in the top 10 most difficult 100's in the world. Not the best choice for a rookie 100-miler who never even ran 50 miles at one time before. I leave Colorado in a week and am off to Hawaii for the next 3 years. Will still make it to the mainland though for plenty of marathons. Suddenly 26.2 miles is looking WELL within my comfort zone. If you need a B&B for your next Hawaiian sporting event, you're always welcome.
Cheers,
Craig
(Matt C adds: Speaking of Craig's move to Hawaii I found this report from him very funny!)
Craig Hess writes:
Hawaii: First Impressions
Well actually...second impressions. I lived here for 5 months in 1986. Lots of things have changed. Chiefly, the additional population and traffic and the difference between what a 23 year-old finds exciting and what a 39 year-old finds exciting.
As of this writing I am still in temporary quarters and am pretty certain it will be November before I found something permanent. Extremely tight housing market but more on that later.
I work at Camp Smith, a Marine installation. The Marines are our smallest and poorest branch of service. This base emphasizes both. (small, run-down base) While a new Pacific Command (PACOM) HQ is under construction, I get to work in a vintage facility. Most the buildings here are from the WWII era. And most smell like it too. A choice example is the base "gym." Picture some stinky inner-city gym equipped with the absolute basics — Some free weights and a handful of dilapidated machines. Not sure how frequent the upgrades are around here, but I'm pretty sure it involves nothing more than putting new grip tape on the pull-up bars. But since I'm a runner and the climate is great...no problems. There's also a pool about 50 yards from my office and that works just fine. It's an adjustment going from one of the best fitness facilities in the Department of Defense to one of the worst in DoD but I have recovered from the initial shock and will survive. God bless the Marines.
The new job appears to be fairly interesting. A definite learning curve involved. I work in the Joint C4 Operations and Exercise Branch. Once I actually learn how the four services are supposed to communicate with each other in a Joint Task Force environment, I'll be fine. Until then, I've always found it a bit uncomfortable teaching folks stuff I don't have the foggiest idea about. Seems like great people in the office though and I look forward to working here.
Aside from work, there's everyday life on Oahu. If your favorite shirt has some strange mix of fish and pineapples on it, but you never seem to find the right occasion to wear it, here's the place. You'll also be happy to know that Puka shells and boogie boards are still in. And apparently Don Ho never goes out of style either as I noticed he has an album in the Hawaiian Top 10. (Lack of competition??) I think he's the Wayne Newton of Hawaii. He'll never fade. There is another popular Hawaiian singer though. His name is Iz. (I'm pretty sure that izn't a native Hawaiian name.) Anyway, Iz is, or rather was, a rather large fellow. (think XXL Sumo and then some) He died a few years back. (Can't imagine it being anything diet related.) Mainland folks will recognize his voice from the e-Toys commercials. Some of his music iz kind of neat actually. I like it.
As for the Hawaiian language and for those unfamiliar with it, there are only 12 letters in the native language. (a,e,i,o,u, plus h,k,l,m,n,p, and w) Operating with less than 50% of the mainland letters presents unique challenges for lots of things...street naming for instance. However the ever resourceful and creative locals have met the challenge. Typical street names include Aalapapa, Akaakaawa, Akekeke, Huiulili, Kalanianaole, Kaihawanawana, Keawemauhili, Paaaina, Panapanapuhi, and Uapoaihala. These are all legit street names. Any attempts to import any of the classic gringo names, e.g. Main Street, Elm Street, etc. were apparently unsuccessful. Lolapalooza must have been disqualified because of the "z." I think all one needs to do here is roll some 12-sided dice, and arrange those letters any way you want. I'm certain you could tie the new word back to some ancient god of this or that. Pike's Peak could almost work if it wasn't possessive. But then it again it would have a minimum of four syllables.
As for the housing market, in a nutshell, it's not for the faint-hearted. Anything decent to rent costs over $2,000 a month. A decent 3 bedroom place in a nice neighborhood goes for $2,000 and upwards. Marginal housing can run between $1,400 and $2,000. Anything below that will pretty much guarantee that your neighbor will either a) have one or more cars up on blocks, b) have chickens running around your front yard, or c) have a pit-bull breeding operation. It is also quite possible to score a trifecta here.
Home sales are similar. Homes outside the ghetto and with only moderate termite damage will run you a minimum of $250,000. But of course this includes a whopping 1,200 square feet and sometimes a carport. Marginal properties can run from $300,000 to $500,000 depending on the location. I can honestly say I have seen homes going for $500,000 and that does not include the price of razing the "house" that I have to believe the health department would condemn if they ever saw it.
So the housing search continues. Originally my search criteria excluded all homes on street names that included "pupu" among the 14 syllables, but I'm a little more open-minded now. If I don't find anything suitable in the next month or so, perhaps I can find a 36-month deployment out of here or something. :-)
All for now. More once I get settled in. Hopefully that means before Christmas.
###############################################
WWW POSTS:
###############################################
None: We have been in off season mode. However quite a few photos were added to the photos page of the club site. http://www.inclinclub.com.
####
Go out hard, when it hurts speed up...
Matt Carpenter
http://www.skyrunner.com
Incline Club
http://www.inclinclub.com
Barr Trail Mountain Race
http://www.runpikespeak.com
presented by Pikes Peak National Bank
Friends of the Peak
http://www.fotp.com
---