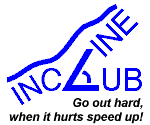 2002 Incline Club V6 LR #20
---
Incline Club V6 LR #20
Sent: Thursday, April 04, 2002 8:04 PM
Subject: Incline Club V6 LR #20
Hi ICers,
REMEMBER to set your clocks ahead 1 hour before you go to bed Saturday night so you don't miss Neal and Teresa Taylor's 4th annual VanFeed (see below)!!!
...and just like that we are halfway through our season!!! :-)
###############################################
NEXT RUN:
###############################################
Sunday, April 7, 8:00am — Soda Springs Park
Run up the Barr Trail to the 1/2 mile sign. Turn left and run out to Mountain View on the COG. Return via Barr Camp or head straight back down. 2.5-3.5 hours. If it would take longer turn back earlier. Note: Watch for ice at No Name Creek!
TIME CHANGE! SET CLOCK 1 HOUR AHEAD...
VANFEED AFTER! VANFEED AFTER! VANFEED AFTER!
###############################################
IN THE NEWS:
###############################################
Ron Ilgen PPM RD and TCR president writes:
We plan to add the additional aid station. In fact, Gail has already found a person to coordinate the set up and support.
Your information helped me remember what a long interval it is between French Creek and Barr Camp, especially seems that way on the decent. That section hit me hard when I last ran the round trip. It will be interesting to hear the feedback on how helpful this turns out to be.
Thanks again for the info and your help.
####
Bill Radford of the Gazette writes:
Thank your fellow Incline Club members for me; I've gotten several responses. I'm going to choose the best from your group and the Pikes Peak Road Runners, but I appreciate everyone's offering.
###############################################
ICers WRITE:
###############################################
Neal and Teresa Taylor write:
Hello ICers! Plan on hanging around the park after your run for the 4th annual "vanfeed." The bus is gassed up (and so are we)! Jeanne Mills, John's BETTER half — will be running the second stove! A couple of things to consider. What is required of you? NOTHING but an appetite. We are prepared to feed the normal group — we will have pancakes and fixings, some juice and some other foods. Your family/guests are welcome — but it might help if you bring extra juice or whatever in that case. Stupid human tricks will earn extra points! Last year we prepped 30+ pounds of pancakes and not one was left! We will outdo that this year! And kissing the cooks is welcome!!!! First cakes hot off the burner at about 9:00-ish. So — run hard, work up an appetite, and pig out!
(Matt C adds: While not required there is also no rule that says we can't bring something either. I know Kees is going to bring his famous brownies — right Kees?)
####
Anita Bower writes:
Thank you Rick Pearcy for your words of encouragement in regards to my Badwater entry. I am very excited about this race, as it has some very special meaning to me. My father actually lived in Death Valley, owning a tungsten mine, and my mother spent the majority of her pregnancy with me there also. I haven't been back since, so in a way it is like going home. What a way to go home...
One of the things that I look forward to about this run is that most of it is uphill,(if you've ever seen me "run" downhill you'd understand)and it is also a race where slow is good. I'm definitely good at the slow. I have been blessed with a great crew, and a great coach, so I have little reason for not making it. If anyone out there is interested in learning about Badwater, or running it, I highly recommend watching the movie, "Running on the Sun." It is truly inspirational and motivating, not to mention funny at times. And yes, I definitely plan on wearing my Incline Club shirt across the finish.
####
Fred Wright writes:
Now you see him, now you don't!
I was about a mile from the turn off the Barr Trail onto the race route, had just past Glen Ash a couple of minutes earlier, when I tripped and took a dive over the edge. I must have been very close to the edge of the trail, because I didn't hit the trail before finding myself in space. Reflex took over and I grabbed at a bush, which swung me from head first to feet first. I fell 7 to 8 feet, and my feet and hip wedged into a rock which saved me from a 30 foot drop onto rocks below. I couldn't move at first, but I knew Glen would be along soon. When I called out for help he looked shocked, but he risked his "dickie" hamstring helping me crawl out. I owe you Glen! Had I hit my head and been unconscious, nobody would have seen me? So, it seems that the smart thing is always run with someone, because trail running can be hazardous to your health! Almost enough to send a body back to urban road racing!!
I'm okay, just a huge bruise on my hip, smaller ones elsewhere, and some sore muscles on the inside of my left upper thigh. But hey! I had a 14 minute PR for that course!
See you down the road,
####
Randy Lindsey writes:
I saw Kees' email about the PPA/PPM and panicked myself, as I kept "forgetting" to send in my form. Luckily I've been planning for the Marathon anyway. I drove up to the TCR office at 809 N. Cascade and dropped my app through their letter slot. There is a sign on the door today, as of 3/26, PPM is 70% full (and PPA is full of course). Obviously they don't update the website often enough.
####
Randy Lindsey also writes:
Matt wrote:
>...as I feel better I have been getting father and that is all we can all do!)
Interesting comment Matt, although only about half our group would even be
capable of fatherhood, much less desire it ;-)
(Matt C adds: Talk about your Freudian slip! However some English majors point out that had I spelled what I had meant to spell, "farther" I would have still been wrong because it should have been "further.")
###############################################
ICU (Incline Club Ultra) REPORT:
###############################################
Got a report that Lance Armstrong and Jan Ulrich joined the ICU last week for a ride to Woodland Park!? Not sure about this but their names were on the ICU list under the windshield wiper of an ICUer's car.
###############################################
WWW POST:
###############################################
3/31/02 Easter Sunday brought 64 ICers together for a long run. The snow is going quick and the weather was awesome. A little ice on LRR made for some tough going but by the time we hit that section again in 3 weeks it should not be an issue. Ronald Garcia was this week's T-shirt winner. Also announced today was the engagement of ICers Eric Billmeyer and Terri Cassidy.
####
Go out hard, when it hurts speed up...
Matt Carpenter
http://www.skyrunner.com
Incline Club
http://www.inclinclub.com
Barr Trail Mountain Race
http://www.runpikespeak.com
presented by Pikes Peak National Bank
Friends of the Peak
http://www.fotp.com
---