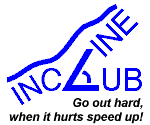 2002 Incline Club V6 LR #19
---
Incline Club V6 LR #19
Sent: Friday, March 29, 2002 1:13 PM
Subject: Incline Club V6 LR #19
Hi all,
Sorry for getting this out a day late but I have been trying to catch up on some personal stuff.
Bill Radford of the Gazette passes on:
Bill Radford here. I'm going to be doing a story next month on running, actually a personal essay on my 30 years (so far) of running and how it has affected my life. So that it isn't ALL about me, I'm soliciting comments from runners on why they run and will run a good sampling in The Gazette. I've already gotten emails from folks in the Pikes Peak Road Runners, but if you wouldn't mind passing on the request to folks in the Incline Club, I'd appreciate it. What I am looking for is something short: a sentence or a paragraph on why that person runs. They should include their whole name, age as of April 22 (when the story runs), town (whether Colo Springs, Manitou, Black Forest, etc.) and how long they have been running. They can just e-mail me their comments. And feel free to answer the question yourself! (e-mail address removed for www posting)
###############################################
NEXT RUN:
###############################################
Sunday, March 31, 8:00am — Soda Springs Park
Run Ute Pass Trail and turn right and cross Hwy 24 and run Waldo Canyon loop in the clockwise direction. Cross back over Hwy 24 (be careful) and continue up LRR and return via the Barr Trail using the "J" pipe trail. 2.5-3.5 hours. If it would take longer skip LRR and return via the UPT.
Or see Fred's note below.
###############################################
ICers WRITE:
###############################################
Rick Pearcy writes:
Ms. Anita has been accepted into "Badwater." The Badwater Ultramarathon is a 130 mile race across Death Valley during the hottest time of the year. It starts at the lowest point in the Western Hemisphere (282 feet below sea level), crosses the desert, and finishes at the trailhead to Mount Whitney. In July, air temperatures typically reach 120 degrees over the first 50 miles or so (around 200 degrees near the runners' feet off the black top), but can drop below freezing in the higher elevations. Congratulations to Anita and good luck!!!
PS- The Incline shirt will look great crossing that finish line...
####
Kees Guijt writes:
SCARY... this has been the most scared I have been in my Pikes Peak "career." I know I am a procrastinator, but... For the last few weeks I have been checking the TCR website how the ascent was filling. I sent in my forms 18 March. I did this based on the info that March 14 the ascent was filled 78% 1st wave and 91% 2nd wave. Yep, I know I was late, but not too late (right?). Today (Thursday) I checked the website to see if I could find my entry, couldn't find it yet, but what scared me was the following: as of 21 March the search showed 90.7% of the ascent was filled, the main page showed 1st wave 89%, 2nd wave 93%. Now I was getting scared although there were still about 100 spots in the 1st wave. Anyhow, I called the TCR office. I got the recording saying that the ascent was FILLED and CLOSED for registration. Now I got really scared (actually sweaty...). I kept calling, and in the end I got to talk to a live person who fortunately confirmed I was in. For people who aren't in yet, try t o confirm TODAY, if you aren't in I am afraid that the only option is the marathon, but better that than no race at all. My question is: What in the world happened this week that both waves filled completely??? I did pretty OK in the race last year, but almost without a warning I could have been out, and not have been able to run the race I train for. I hope nobody else is in the same position... My advice: try to get in the marathon before that one fills too! Sorry to bring bad news, but at least there is still an option.
(Matt C adds: This is true. I was in the TCR office Wednesday turning in the results of our Bob's Road aid station survey (see below) and it was full. Unfortunately while I was there I saw the entry form of one ICer who had a 9 year streak of ascents get placed into the "did not make it pile." I hope he was not going by the website! As Kees said, even yesterday a day after it was full is still had the 89%/93% as of the 21st numbers (it is up to date now — full). He is also right that if you missed out on the Ascent you need to hurry up and call and switch to the marathon!)
####
Elizabeth Kaegi writes:
This rather hard-core "lefty" seems to have gotten Craig's e-mail by mistake ;-)
####
Keith Lonnquist writes:
I found this old info. Interesting read. The sophistication of my training is at the slug level (duh, must run up hill.....), so maybe this will add to your training knowledge.
http://home.hia.no/~stephens/exphys.htm
####
Fred Wright writes:
Although we are setting record numbers of people for Sunday long runs, it is my bet that far fewer than last year are doing the full, or even half, of the w/o? Since I have been going out 20 — 30 minutes before the group this past month, I am amazed at how few other I/C'ers I see. Last week's Barr Camp run, for example, saw fewer than 15 people make the Camp. This past Sunday's w/o saw even less do the full run (I got a 10 minute PR on this). Just an observation!
What do you think of the following? As an alternative to the Ute — Waldo — LRR — Barr Trail, for those unable to get close to 3 1/2 hrs; run Ute — LRR — Bob's — Barr Trail. The advantage of this over Ute — Waldo — Ute is that you get to make a long climb, and reach a high altitude. This run took me exactly 3 1/2 hrs., three weeks ago, so it would be in the ball park for a 3 — 4 hr. run.
(Matt C adds: Wow! If more than 10 are getting to BC at this time of the year that is great. Many don't start making it to much later and some never until we switch the runs to Elk Park. As for the RRR loop that we did last week a lot of people do not like that one and take off towards Barr Camp or Waldo so that might explain the low numbers you saw. For Ute — Waldo — LRR loop your idea is a good one and in fact before that run I have been announcing the LRR option for those that have only been able to get in Waldo and may be growing tired of it. As for the rest of us we better toughen up because Fred is watching. I know I have not made a full loop in a while but as I feel better I have been getting father and that is all we can all do!)
####
Allison Forrest writes:
Usually, how long are the Tuesday / Thursday runs? I didn't realize they had a different spice than Sunday.
(Matt C adds: Complete Thursday details are on the club page at www.inclingclub.com/faq.htm Tuesdays also are around 20 minutes of the hard stuff.)
####
Gordon Barnet writes:
Thursday speed workouts are scheduled to start April 11. The start of this aspect of training meets with both anxiety and excitement, right now the bubble is probably leaning more to anxiousness. Thursday, April 11 is the first "official" club run, will the "unofficial" Tuesday track workouts then begin on April 9 or the following Tuesday?
As my first trip to the Boston Marathon is quickly approaching (Monday, April 15) I was wondering if anyone else is running? Last year I believe 3 ICers ran the 105th B.A.A. Connilee, Craig and Gordon Neal.
(Matt C adds: We have yet to check on the track schedule at the Manitou Springs track but I think a couple of ICers are already meeting there at 5:30. I will try to find out more but since you are doing Boston you should not have to worry about that for at least a month;-) — Go Get It!!!)
####
Michael Hartley Writes:
Cripple Creek Challenge (3C5K) Awesome race in Cripple Creek, April 20, 2002 @ 0900. First annual and looking to make it a great time.
####
Matt Carpenter writes:
Thanks again for taking the time before the Sunday run to do the Bob's Road aid station survey. Below is the letter I gave to the TCR with those results. I will of course let you know if I hear anything back on the issue.
-----------------------------------------------------
Gail Allen, RD PPA Ron Ilgen, RD PPM
Dear Ron and Gail,
What follows are the results of survey taken amongst Incline Club runners at the Sunday, March 24, 2002 long run. At issue is the placing of an additional aid station on the Barr Trail at the intersection of Bob's Road. This location is only a few minutes shy (more for slower runners) of the halfway point between the No Name aid station (often referred to as French Creek) and Barr Camp. I have brought this issue up before and most recently with Gail when she called me the previous week about speakers for the races of which I am slated to be one. After discussing various pros and cons of the station we left it with me to conduct a survey of runners in which she might use the results.
At any rate, there were 62 runners at the club run. Six started either late or early and therefore the number voting was 56. The ability range of this group was from former winners, top 10 finishers, age group winners and placers, middle of the packers all the way down to those who have just made the cut-offs. In addition the number of PPA/M races run by this group ranges from several with 10 or more down to the newbies training for their first PPA/M. Finally there was a good mix of people who either carry water (in bottles or Camelbacks) or who only use the stations in the race.
The survey was conducted by a show of hands. It was explained that the Ascent race director OK'd the idea of taking the survey. First, a brief explanation of the Bob's Road location was given. However this location is well known to most in the Incline Club because 1) Bob's road is an option in one of our long runs. 2) Many Incline Club runners have participated in the Barr Trail Mountain Race which has used Bob's Road as an aid station for the last 2 years. Next, a sample of the time difference between aid stations was given with and without the Bob's Road station using an average ascent time as follows; "For someone running a 4:30 Ascent it takes about 55 minutes to run from No Name to Barr Camp. The Bob's Road station would split that into about 25 minutes and 30 minutes." At this time a runner pointed out that for this station you can drive right to it which I confirmed.
The first question was: How many think an aid station at Bob's Road is not needed? Result = 0 (ZERO)
The second question was: How many think an aid station at Bob's Road is needed? Result = 56
To get a further feel for how the runners felt about this station I explained the location of the "Ruxton aid station" which is after the gate at the end of the first switch-back near the small green chlorine gas building. Again this area is well known because we run by there all the time and many saw the station last year. It was then explained that the RD had a concern about the extra personal needed to do a station at Bob's Road.
The third question was: How many feel that having an aid station at Bob's Road would be more important than having the aid station at the end of Ruxton. Result = 56
The forth question was: How many feel that the Ruxton station would be more important than the Bob's Road station. Result = 0 (Zero, yes zero — think about that). However one runner made the comment that if you are going to have it you should at least leave it for the marathon descent to which there was general consensus. I then explained that Gail had already in fact told me of the plans to leave the station this year.
This should demonstrate the feelings of a good sampling of a broad ability range of runners who are doing the PPA/M. Almost every piece of literature on the subject recommends drinking at least every 20 minutes during a long race!!!! However even a 2:20 Ascenter takes 30 minutes to get from No Name to Barr Camp. The Bob's Road station would split that into 13 and 17 minutes. For the runner doing a 6:20 Ascent it would reduce the time without a station from a very detrimental 1 hour and 20 minutes down to 35 and 45 minutes.
Does this survey reflect all the runners in the PPA/M? No, of course not. While, the Incline Club does have all ability levels we are different than some PPA/M runners in that we care about our times and want to get faster no matter our ability level. Indeed, we start training for your race 9 months out!!! However I submit among ALL runners who care about their times you will in fact get nearly 100% agreement for the need of the Bob's Road station!
Does this eliminate the need for runners to take "personal responsibility" given the nature of this course and lack of aid stations in other sections? No, of course not. However when a station is as easy to implement as this one it could be argued that the race has certain obligations as well! Again, we are not talking about Llamas and helicopters to make this station happen. As was pointed out you can drive to this station and in fact many years there is already a Search and Rescue truck or two sitting there. In fact your first source of finding people to staff this station just might be S&R. They understand better than most that the runner they give water to on the way up might be the runner they don't have to deal with up top or on the way down. Speaking of the way down this station would come conveniently at the end of the final uphill on the way down just before we descend into the killer heat of a mid summer day!
As one runner said, "this is common sense, so what's the big deal?" Indeed, this should be a no brainer!!!
Respectfully submitted,
Matt Carpenter
###############################################
WWW POST:
###############################################
3/24/02 62 dodged the snow bullet today for a Rampart Range Road run. Later that day the biggest storm of the year dumped a boatload of snow! For our run however things were great and in fact we did not have to touch snow:-) Elizabeth Kaegi won this week's T-shirt giveaway held for the runners present at the start of the run. The big news however is that there are now only 10 people with perfect streaks left on the workout board after 3 more dropped off today.
####
Go out hard, when it hurts speed up...
Matt Carpenter
http://www.skyrunner.com
Incline Club
http://www.inclinclub.com
Barr Trail Mountain Race
http://www.runpikespeak.com
presented by Pikes Peak National Bank
Friends of the Peak
http://www.fotp.com
---