Club Membership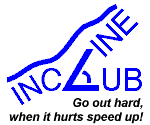 There are two types of Incline Club members:
Virtual members - Those who have joined but do not run with the club. Each season everyone starts out as a vitural member.

Real members - Those who run with the club. Enough said!
While both types of memberships are free there is some sweat equity involved in becoming a real IC member!
To join the club and get the club newsletter just create an account below. When signing up please provide information for your "about me" page so that other club members can learn about you. Your page can be modified at any time!
---
Incline Club Members
1519 members total

LINK KEY
Whole name = "About Me" page with photo
First name = "About Me" page
First letter = Email only