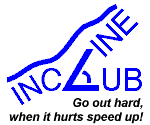 What is the Incline?
In a nutshell it's the roadbed to the former Mount Manitou Scenic Incline Railway, a cable car train that, before shutting down in 1990, took people to about 8,600 feet. The steepest section is at a grade of 68%.
---
The
concept of
a hill will take on
a new meaning when
you run the former Incline
in Manitou Springs. The Club
used to run the scar on Thursdays
at 5:30pm during the summer to build up
our strength. In this photo I am just over 12
minutes into the run approaching the false summit.
At 68% this is the steepest section of the run. We did
this workout as a handicap run based on our best times to the
top for the year. This puts us very close together at the top. In this
photo you can get a look at the Incline from the start of the Pikes Peak
Marathon. The Incline is the line that extends up from the yellow motel sign.
To learn more about the Incline and a controversy about it, read this, this, this,
this and this. Read my take on the Incline from 1997. Not much has changed since
Here is a 3-part piece I wrote in the Fall of 2000 and the Spring and Fall of 2001.

The Incline as viewed from Highway 24 just West of the main Manitou
Springs exit. The mountain in the background is Pikes Peak.

The Incline Club started group runs on the Incline in 1997. That year we ran up it 24 times. The following year we did it 12 times and in '99 just 5 times. Despite how little the club was running up it, every negative story that came out about the Incline always featured the Incline Club when it was the day to day users that were causing the problems with the COG by parking in their lots. The Incline Club parked over a mile away and ran to the Incline for a warm-up. We stopped doing the Incline in 2000 after just 3 runs up it. We were running it less and less anyway in favor of other workouts so it was no big deal to us.