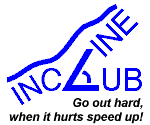 Incline Club Facebook Page
Upcoming Incline Club Runs

Sunday, Nov 29th, 7:30 -> 8:00am Start — Memorial Park
Swing by Memorial Park between 7:30 and 8:00am, pop on your mask, have your photo taken for the annual club picture, and then start your run. Wave at friends but do not gather in groups or loiter in the park. We want to keep runners moving out after signup as quickly as possible. In hopes of encouraging runners to spread out, there is no specific prescribed run, but here are a few suggestions: Barr Trail, Ute Indian Trail to Long's Ranch Road, or Rampart Range Road.
If you'd like to earn your star virtually instead of attending in person, email the details of your Sunday run to ic@inclineclub.com
Sunday, Dec 6th, 8:00am — Memorial Park
Same as last week, just no photos. :-)
---
Screw Shoe | Incline Club Shirts

---
We train hard because there are two
ways to get fast... We haven't found the other!